In the past 40 years, Stäubli Robotics has combined vision with technical expertise and tenacity to push the frontier of industrial automation
Duncan, South Carolina, May 27, 2022 — Stäubli Robotics always has a major presence at Automate, given its prominence in the industry. This year will be no different, except for the addition of a celebratory look back at the company's contributions to the field of robotics. Stäubli's history is highlighted by a number of industry firsts, and through innovation, it continues to focus on making industrial applications faster, safer, and more productive across industries.

Stäubli Robotics, a division of Swiss-based Stäubli Group, first ventured into robotics in 1982. A partnership with Unimation in Danbury, CT, the world's first known manufacturer of articulated robots, led to the first distribution of 6-axis industrial robots. Later that same year, the two collaborated on their first SCARA robots. These hydraulic machines would later evolve into electrically driven SCARAs, and later still, into Stäubli's 2021 Red Dot Award-winning TS2 SCARA.
More firsts in robotics
Unimation was integrated into Stäubli in 1989, and in 1993 Stäubli rolled out its first robot produced entirely in-house: the Stäubli 6-axis RX90. This was also a milestone in robotics, as the RX90 was the world's first fully encapsulated 6-axis robotic arm. This vastly expanded the potential of robots for use in many industries with applications in clean or harsh environments. It also marked the introduction of Stäubli's patented JCS gearbox and CS7 control technology.
In subsequent years, Stäubli Robotics expanded through acquisitions, bolstering its capabilities and expertise as it continued on a path of innovation. The foundational RX series evolved into the TX 6-axis series. These robots would be the first to feature Stäubli's proprietary CSC8 PC-based controller, which greatly simplified robot programming for all types of users.
New generations of TX2 6-axis and TS2 SCARAs have since made their debut. The robots have proved their flexibility and scalability with the addition of special kinematics and models for particularly sensitive environments in the pharmaceutical and medical sectors, humid environments in the food industry, and harsh environments in automotive.
Adding AMRs, AGVs and cobots to the mix
Mobile robots were the next frontier, and in 2018, Stäubli developed the first mobile robot system in collaboration with WFT, a manufacturer of special-purpose machines and mobile platforms. The company merged with Stäubli soon after, forming Stäubli WFT. This heightened Stäubli's innovation efforts in development of state-of-the-art autonomous mobile robots (AMRs) and automated guided vehicles (AGVs) — now with payloads of up to 500 tons. At Automate, attendees will have the opportunity to see firsthand just how precise and maneuverable these powerful machines can be.
Stäubli has explored man-machine collaboration extensively, with special emphasis on solving the challenge of how robots can safely interact with humans while maintaining high performance. In 2018 the company launched its TX2touch POWER Cobot (collaborative robot) series, which is distinguished by its advanced safety technology. TX2touch is the first cobot to attain the SIL3/PLe safety level, and has been proven to work safely alongside people in many industrial settings.
Maximum performance, flexibility and connectivity
"With our acquisitions, continuous product innovation and the expansion of our global Stäubli sites, we were able to pave the way to flexible solutions for the smart factory of tomorrow," says Gerald Vogt, CEO of the Stäubli Group. Today Stäubli has arguably the most powerful four- and 6-axis robots in the lower and medium load range. All are compatible with Industry 4.0 standards and, with minor modifications, can be used as POWER cobots for direct human-robot collaboration.
"From this strong position, we want to sustainably shape the market for industrial robots and consolidate our position as leader in high-growth and technology-driven markets. In the future we will focus more than ever on holistic robotics solutions that are precisely tailored to the needs of our customers," says Christophe Coulongeat, Robotics Executive President at Stäubli. "Continuous investment in new technologies, the highest performance parameters for robots, outstanding total cost of ownership (TCO), close cooperation with customers locally and an extended range of services all play a role in this."
In addition to Stäubli's Robotics Division 40th anniversary, tailwinds from recent record highs in production and order intake, as well as expanded production across multiple manufacturing sites, give Stäubli Robotics even more reason to celebrate.
About Stäubli North America
Stäubli North America supports Electrical Connectors, Fluid Connectors, Robotics and Textile customers. The company's North American main base is in Duncan, South Carolina. Stäubli provides customer service through its locations in Duncan, Windsor, Queretaro, Mexico, and the newest Stäubli North American facility, which opened in 2018 in Novi, Michigan. In addition to 24/7 customer support, each of these facilities offers training and has dedicated on-site technical experts who can be deployed whenever needed. Stäubli's North American sales force is located strategically on the West and East coasts, and also serves Canada and Puerto Rico.
About Stäubli Robotics
Stäubli Robotics is a leading global player in robotics, consistently delivering engineering as effective and reliable as our service and support. A complete solutions provider for digitally networked production, Stäubli offers a broad range of 4- and 6-axis robots including robotic arms designed specifically for sensitive environments, autonomous mobile robots, driverless transport systems (AGVs) and cobots for human-robot collaboration. staubli.com/robotics
About Stäubli Group
Stäubli is a global industrial and mechatronic solution provider with four dedicated Divisions: Electrical Connectors, Fluid Connectors, Robotics and Textile, serving customers who want to increase their productivity in many industrial sectors. As an international company, Stäubli currently operates in 29 countries, with agents in 50 countries on four continents. The global workforce of 5,500 shares a commitment to partnering with customers in nearly every industry to provide comprehensive solutions with long-term support. Originally founded in 1892 as a small workshop in Horgen/Zurich, Stäubli is today headquartered in Pfäffikon/SZ, Switzerland. www.staubli.com
Featured Product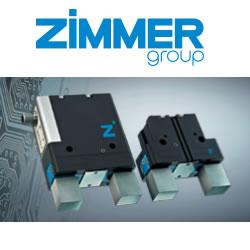 IO-Link is the first standardized IO technology worldwide for communication from the control system to the lowest level of automation.