Aimed at those looking to test 'proof-of-concept' with high precision positioning - Works seamlessly out-of-the-box in Europe and US -
ArduSimple today announced the availability of a range of GNSS starter-kits enabling anyone in Europe or the US interested in testing or integrating high precision centimetre accuracy for a service or product proof of concept (PoC).

Building a PoC for increasingly common applications such as autonomous vehicles where high levels of positioning accuracy is required is often a complex process. Finding compatible antennas that are tuned correctly, CPUs, modems that connect to GSM, sourcing a global SiM and then finding a suitable RTK correction engine that works in multiple regions and then mounting this all on a board is a lengthy and costly process.
Solving this issue, ArduSimple has pulled together all the components and services required into a range of starter-kits that work - straight out of the box.
Working anywhere in Europe and the US with a 4G signal the simpleSSR - Starter Kit includes:
1 simpleRTK2B-F9P V3 board
1 u-blox ANN-MB-00 Antenna for GNSS Dual Band with cable (IP67)
4G radio module with NTRIP client including RTK-SSR engine (XBee socket compatible)
2x 4G antennas with integrated cable
1x SIM card with 1-year subscription
1-year subscription to u-blox PointPerfect SSR service
Price: €799.00 / $849.00
Commenting on the start kit launch, Marc Castillo, Senior Consultant at ArduSimple, said: "Bringing together the components, high precision accuracy and connectivity in Europe and the US in one simple out-of-the-box solution will significantly speed up the process of PoC projects. We've reduced the complexity enabling engineers to focus on the feasibility of their project."
Featured Product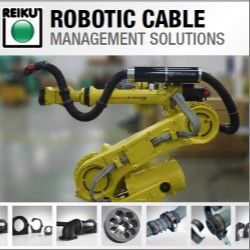 REIKU's Cable Saver™ Solution eliminates downtime, loss of revenue, expensive cable and hose replacement costs, maintenance labor costs. It's available in three sizes 36, 52 and 70 mm. All of the robots cables and hoses are protected when routed through the Cable Saver™ corrugated tubing.The Cable Saver™ uses a spring retraction system housed inside the Energy Tube™ to keep this service loop out of harms way in safe location at the rear of the Robot when not required. The Cable Saver™ is a COMPLETE solution for any make or model of robot. It installs quickly-on either side of the robot and has been tested to resist over 15 million repetitive cycles. REIKU is committed to providing the most modular, effective options for ensuring your robotic components operate without downtime due to cable management. www.CableSaver.com