Locus Robotics Receives Ranking No. 424 Among America's Fastest-Growing Private Companies for Second Year in a Row.
Inc. Magazine today announced that Locus Robotics is ranked No. 424 on its annual Inc. 5000 list, the most prestigious ranking of the nation's fastest-growing private companies. The list represents a one-of-a-kind look at the most successful companies within the economy's most dynamic segment—its independent businesses. Facebook, Chobani, Under Armour, Microsoft, Patagonia, and many other well-known names gained their first national exposure as honorees on the Inc. 5000.

"Locus Robotics is proud to be recognized by Inc. as one of the fastest-growing companies in the US for the second year in a row," says Rick Faulk, Locus Robotics CEO. "With the highs and lows of the supply chain industry over the last year, this recognition shows the importance robotics plays in the fulfillment industry, and the increased demand for warehouse automation worldwide. Being ranked in the top 500 is a major honor, underscoring our commitment to customer and partner success by deploying efficient and easy to use warehouse automation."
The companies on the 2022 Inc. 5000 have not only been successful, but have also demonstrated resilience amid supply chain woes, labor shortages, and the ongoing impact of Covid-19. Among the top 500, the average median three-year revenue growth rate soared to 2,144 percent. Together, those companies added more than 68,394 jobs over the past three years.
Complete results of the Inc. 5000, including company profiles and an interactive database that can be sorted by industry, region, and other criteria, can be found at www.inc.com/inc5000. The top 500 companies are featured in the September issue of Inc. magazine, which will be available on August 23.
"The accomplishment of building one of the fastest-growing companies in the U.S., in light of recent economic roadblocks, cannot be overstated," says Scott Omelianuk, editor-in-chief of Inc. "Inc. is thrilled to honor the companies that have established themselves through innovation, hard work, and rising to the challenges of today."
Locus Robotics' industry-leading robotics fulfillment solution enables brands, retailers, and third-party logistics (3PL) operators to easily meet higher order volumes and increasing consumer demand for e-commerce, retail, omnichannel, and manufacturing order fulfillment. Their innovative multi-bot solution incorporates powerful and intelligent autonomous mobile robots that operate collaboratively with human workers to dramatically improve piece-handling productivity 2X-3X, with less labor than traditional picking systems.
Global customers, including CEVA, DHL, Boots UK, GEODIS, Whiplash, Saddle Creek, Quiet 3PF, Radial, and others, are doubling or tripling their fulfillment productivity while lowering labor recruitment, training, and retention costs. For more information, visit www.locusrobotics.com.
Featured Product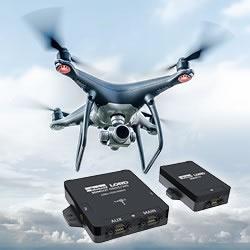 The new complete inertial navigation solution comes with GNSS/INS 3DMGQ7 sensor, 3DMRTK correction modem and real time SensorCloud RTK correction network. The sensor comes with Dual antenna GNSS, tactical grade IMU with centimeter-level accuracy with RTK. Low profile and light weight at 78 grams, this sensor is The sensor is optimized for size and weight in Unmanned Ground Vehicles, mobile robots and autonomous vehicles. The network interface 3DMRTK modem is seamlessly integrated into the 3DMGQ7 sensor supports industry-standard NMEA and RTCM 3.1 protocols. The network RTK support comes with cellular data plan. The SensorCloud RTK is a cloud-based RTK correction system with private encrypted data stream. Check out our G Series and C Series OEM products.