Automation technologies at the Assembly Show 2022
Industrial robot distributor, TM Robotics will exhibit at the Assembly Show 2022, held on 25 to 27 October 2022, at the Donald E. Stephens Convention Center in Rosemont, Illinois. As the premium distributor for Shibaura Machine — formerly known as Toshiba Machine — industrial robots, TM Robotics will demonstrate the latest robotic technologies from Japan, including the new THE600 SCARA robot. TM Robotics will exhibit at stand 646.

The THE600 is the latest SCARA robot model from Shibaura Machine. The robot builds on the successes of the earlier THE400, but with improved synchronisation and tracking precision. The model has been specifically developed for assembly and inspection applications and will be exhibited with the TS5000 robot controller, the latest controller from Shibaura Machine.
The TS5000 controller has been expertly engineered by Shibaura Machine for the modern factory. Compared to previous controllers, it provides three times faster position cycles to enable more control during rapid movement. Moreover, its data transmission has been enhanced to enable vibration analysis for smart maintenance.
In addition to the THE600 SCARA, TM Robotics will demonstrate the TVL700 six-axis model, a flagship robot from Shibaura Machine. The TVL range is vertically articulated with a compact size, making it ideal for end users that are short on space but would benefit from automation. The TVL boasts an aluminium extrusion cross section to reduce the weight of the robot without compromising on strength or performance.
At the show, it will be demonstrated working in collaboration with a vision system from sensor intelligence and automation company, SICK.
"The TVL700 demonstration is an ideal example of how Shibaura Machine robots can integrate seamlessly with other manufacturing technologies," explained Nigel Smith, CEO and President of TM Robotics. "The robot will be exhibited in a parts handling application, an area that requires machines, software and other devices to collaborate in real-time. The robot will communicate with SICK's vision system to demonstrate the fast cycle times that can be achieved with state-of-the-art robotics and intelligent software.
"In addition, the THE600 robot will be on display. This is our latest and most in demand SCARA model from Shibaura Machine," continued Smith. "For assembly applications, the THE range has been named as the price-to-performance leader due to its high speed and 60 per cent higher payload capacity than competing SCARA models in the same price range."
Prior to the show, TM Robotics and SICK will be collaborating to host a free webinar, Myth Busting: 2D Vision for Robotics. The webinar will be held on 15 September 2022 at 10.00am (CT). Interested attendees can join using this link.
To arrange to meet with TM Robotics at the Assembly Show 2022, please contact info@tmrobotics.com or visit booth 646 at the show.
Featured Product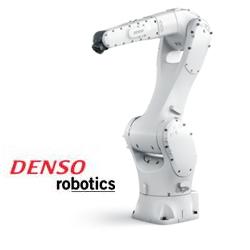 The new VMB series represent some of the newest members to our 6-axis family of robots. These high-performance, versatile units offer a longer arm reach and a higher load capacity than traditional models which make VMB an excellent solution for palletizing, packaging, and material handling. New features include greater air piping, valve and signal line options, as well as new programming options with state-of-the-art functions using our new WINCAPS Plus software. VMB offers an IP67 protection grade along with meeting ISO Class 5, which makes them suitable for electric parts, food manufacturing processes, and pharmaceutical and medical devices. With the addition of the new VMB large robots, all manufacturing processes can now be automated by DENSO Robotics.