These enhanced, high-performance motors are MilSpec 810E rated and IP67 sealed. They are supplied standard with a stainless-steel shaft and chemical agent-resistant paint for reliable duty in harsh environmental conditions.
Kollmorgen has recently introduced the new EKM series of Enhanced, High-Performance, Brushless AC Servo Motors. EKM Series Motors are Mil-Spec 810E rated and IP67 sealed for duty in harsh environmental conditions. The EKM brushless servo motors feature:

» Industry leading power and torque density
» Ideal for most aerospace and military specifications
» C.O.T.S (commercial off the shelf) solution
» Standard product offering with customization available
» Meets IP67 sealing requirements and is 100% leak-tested housing for further moisture blocking
Features include:
• 0.43 to 53 Nm continuous stall torque (3.8 to 467 lbin)
• Speeds up to 8000 RPM meet high speed requirements
• 480 VAC High Voltage Insulation
• Custom windings, shaft variations, and failsafe brakes available
• Rugged resolver feedback for extreme environment Operating temperature range of -51°C to 54° C
• Shock and vibration tested per MILSTD810E, Methods 516.4 & 514.4, Procedure 1
• International standard mount available
• Low-cog, low harmonic distortion magnetic designs
• Connectivity: High performance nickel-plated MIL-C-38999 connectors with total environmental sealing, quick mating, triple lead threaded, self-locking coupling, as well as EMI and RFI shielding. In addition, both front-facing and rear-facing options are available
• Stainless steel shaft and fasteners prevent external corrosion while a chemical agent resistant paint allows resistance to harsh outdoor environments and chemicals
• Sealing: IP67 rated for ingress prevention and brief submergence as well as 100-psi wash down. In addition, a viton shaft seal comes standard
For more information, visit https://www.electromate.com/pub/media/assets/catalog-library/pdfs/kollmorgen/EKM-KM_SG_000135_RevB_EN.pdf
For further information, please contact:
Warren Osak
sales@electromate.com
Toll Free Phone: 877-737-8698
www.electromate.com
Tags: Kollmorgen, EKM, Servo Motor, AC Servo Motor, Electromate
Featured Product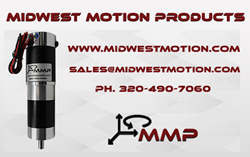 MMP specializes in supplying high-quality Brushed & Brushless DC Motors & Gearmotors for Robotics and Automation Equipment with a wide range of motor windings and gear ratios. With an impressive track record of more than 8,000 released DC Gearmotors designs and over 2,000,000 individual part numbers, we are renowned for our ability to handle large-scale orders. Due to our huge on-hand inventory, we are also well known for lightning-fast delivery of our standard products. We take pride in our dedicated customer service and our team of knowledgeable sales and engineering experts who are ready to assist you with custom design solutions tailored to your specific application. Additionally, we also offer a wide range of complimentary products, such as DC Motor Controls, DC Linear Actuators, AC-DC power Supplies, and DC Servo Amplifiers and others.