**Part four of Mindtech's guide to synthetic data released, providing practical tips for data engineers and real-world use cases for data training** **Chameleon platform generates automatically annotated synthetic images and data to reduce time spent by engineers on labelling—and eliminates risk of human error **
Mindtech Global, developer of the world's leading platform for the creation of synthetic data for training AI, has today revealed details on how machine learning engineers can radically speed up the time it takes to train their AI vision systems to see and understand the world around them.

Synthetic images generated on a platform like Mindtech's Chameleon are produced ready-annotated. If working solely with real-world images, a machine learning engineer can spend up to 80% of their time making sure they are labelled correctly so their AI does not get confused. Automating this task reduces their workload substantially—and alleviates several other issues too, according to Chris Longstaff, VP Product Management, Mindtech Global.
"We encourage visual AI developers to strive to vastly reduce the number of real-world training images they use - by utilising many more synthetic, computer-generated images to train their machine learning networks.
"The reason? In a synthetic imaging platform like Mindtech's Chameleon, we've created the 3D virtual world, we know exactly what objects are in it, and we know where they are in three dimensions - so the image can be annotated automatically and in an instant. On top of that, the synthetic images are, of course, privacy compliant, too."
You can read part four of Mindtech's guide on synthetic data, providing practical tips for data engineers and real-world use cases for data training, here: https://medium.com/mindtechglobal/accelerating-time-to-market-how-synthetic-data-can-alleviate-the-waiting-time-for-annotated-data-8e3474ab530d
Mindtech Global www.mindtech.global
Mindtech Global is the developer of the world's leading end-to-end 'synthetic' data creation platform for the training of AI vision systems. The company's Chameleon platform is a step change in the way AI vision systems are trained, helping computers understand and predict human interactions in applications ranging across retail, smart home, healthcare and smart city.
Mindtech is headquartered in the UK, with operations across the US and Far East and is funded by investors including Mercia, Deeptech Labs, In-Q-Tel and Appen.
Featured Product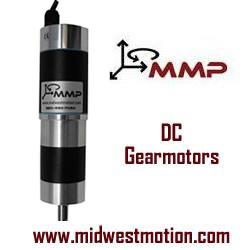 MMP is well known for our Lightning-Fast Delivery Capability, Huge On-Hand Inventory, High Volume Capacity and Time Tested and Proven Reliability Methods. Our 100+ years of combined work experience and being able to deliver continual committed service to design and engineer ideas into reality gives us a competitive advantage in the motion control industry. If you need a sample right away, we can be a project-saving convenience for you, so contact us today!!