Applied Manufacturing Technologies COO Craig Salvalaggio will present "The Important Role of System Integrators in Robot Safety" at the International Robot Safety Conference (IRSC) hosted by Association for Advancing Automation (A3) September 28, 2022 in Columbus, Ohio.
Orion, MI - September 20, 2022 - Applied Manufacturing Technologies (AMT), North America's largest independent automation engineering company supporting warehousing and logistics, robot companies, system integrators, line builders and users of robotic automation worldwide, today announced Craig Salvalaggio will present in person at the 2022 International Robot Safety Conference (IRSC) in Columbus, Ohio.

Salvalaggio's presentation, entitled "The Important Role of System Integrators in Robot Safety," takes place on Wednesday, September 28, 2022 at 8:30 am ET. The presentation educates end users on key criteria for choosing a robotic system integrator partner to ensure project success, and covers the RIA Certified Integrator Program, the end user's perspective, standards, risk assessments and more. The presentation is based on Salvalaggio's foundational eBook, "The End User's System Integrator Selection Guide."
"I am excited to present again at the International Robot Safety Conference on this popular topic," said Salvalaggio. "Attendees will learn the right questions to ask and how to navigate the selection of a system integrator to have a productive relationship."
The IRSC will be in person for the first time since 2019. The conference will examine key issues in robot safety and provide an in-depth overview of current industry standards and best practices. For more information or to register, visit the IRSC website.
A FANUC Authorized System Integrator and three-time winner of the FANUC Sales Growth Award, AMT offers full-service systems integration, specializing in end of line solutions, complex material handling systems, and engineering support such as turnkey industrial controls, robotic programming, and automation consulting. Bringing together best-in-class technologies and custom automation, AMT provides high-quality, cost-effective automation solutions. The company's solutions have benefited manufacturers in automotive, aerospace, medical, alternative energy, fabricated metal, industrial machinery, rubber and plastics, food and beverage, and many other industries.
About Applied Manufacturing Technologies
Founded in 1989, Applied Manufacturing Technologies is an industry leader in automated end of line solutions, complex material handling systems, and engineering support globally. AMT employs more than 120 experienced and highly-trained controls and automation engineers with over 1,250 combined years of experience engaged in automation projects across an array of industries. With a deep bench of experienced, innovative automation engineers, consultants, and programmers, AMT assists customers with projects at any stage of development, from conceptualization and design to troubleshooting and expansion. From AMT's Orion, Michigan headquarters, the company has engineered more than 25,000 automation systems worldwide on 5,500 projects for more than 600 customers. For more information, visit AMT's website, LinkedIn, Facebook, Twitter and YouTube.
Featured Product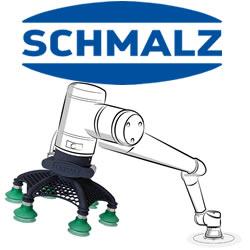 In order to interact with their environment and perform the tasks, lightweight robots, like all industrial robots, depend on tools - and in many cases these are vacuum grippers. These form the interface to the workpiece and are therefore a decisive part of the overall system. With their help, the robots can pick up, move, position, process, sort, stack and deposit a wide variety of goods and components. Vacuum gripping systems allow particularly gentle handling of workpieces, a compact and space-saving system design and gripping from above. Precisely because the object does not have to be gripped, the vacuum suction cupenables gapless positioning next to each other.