Recognized for positively impacting the supply chain industry by setting and exceeding environmental goals, McCarthy simultaneously sustains a strong foundation for women at all levels within L.L.Bean's network
Marie McCarthy, chief operations officer at L.L.Bean, is a Supply & Demand Chain Executive's 2022 Women in Supply Chain award honoree.

The Women in Supply Chain award honors female supply chain leaders and executives whose mentorship, accomplishments and examples lay the foundation for women in all levels of a company's supply chain network. This year's honorees have made a lasting impact on supply chain clients and the community, while constantly remaining ready to tackle the next challenge.
"As a female leader at L.L.Bean, I've felt very blessed to have ongoing support in my own development, and have been supported in helping to develop and promote other female leaders," said Marie McCarthy, chief operations officer at L.L.Bean. "I feel so fortunate to be a part of a values-based company that is always evolving to ensure we meet the needs of all our Stakeholders. Within Fulfillment Operations, we've embraced automation innovation for years with more recent efforts taking us into advances in robotics and artificial intelligence, ensuring we're adapting to key service excellence and sustainability goals."
With nearly 30 years at L.L.Bean, McCarthy has held a variety of leadership roles across the company in human resources and operations, playing a crucial role in the company's long-term success. She is responsible for fulfillment, returns and manufacturing operations, all of L.L.Bean's contact centers, corporate facilities and real estate. In McCarthy's role running facilities, she oversaw the completion of a $110M renovation of the corporate headquarters. Additionally, in her role overseeing fulfillment, she is currently leading the company's multi-million dollar investment to add robotic automation in partnership with GreyOrange.
"We are so happy that Marie has been recognized for her incredibly important work at L.L.Bean," said Deborah Surrette, chief commercial officer at GreyOrange. "We are in a fast changing world with many external pressures that no one predicted 5 years ago. Leaders like Marie are preparing us for the future and setting the standard for what inclusive leadership looks like."
To view the full list of 2022 Women in Supply Chain winners, visit https://sdce.me/7wmmgj. The overall award winner will be announced during the Supply & Demand Chain Executive's Women in Supply Chain Forum at ​​Starling Midtown Hotel in Atlanta Nov. 8-9, sponsored by GreyOrange. For more information about the Forum, visit http://womeninsupplychainforum.com.
Featured Product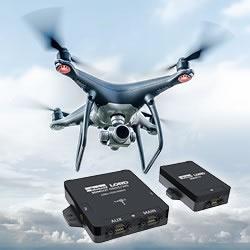 The new complete inertial navigation solution comes with GNSS/INS 3DMGQ7 sensor, 3DMRTK correction modem and real time SensorCloud RTK correction network. The sensor comes with Dual antenna GNSS, tactical grade IMU with centimeter-level accuracy with RTK. Low profile and light weight at 78 grams, this sensor is The sensor is optimized for size and weight in Unmanned Ground Vehicles, mobile robots and autonomous vehicles. The network interface 3DMRTK modem is seamlessly integrated into the 3DMGQ7 sensor supports industry-standard NMEA and RTCM 3.1 protocols. The network RTK support comes with cellular data plan. The SensorCloud RTK is a cloud-based RTK correction system with private encrypted data stream. Check out our G Series and C Series OEM products.