Company receives key investment from Durst Ventures to automate the future of window washing
Skyline Robotics, developers of Ozmo, the world's first high-rise window-cleaning robot, is delivering on its mission to modernize façade health technology in New York City. The company today announced a key investment from commercial and residential real estate giant, Durst Ventures, an affiliate of The Durst Organization, that owns some of New York's most notable skyscrapers including One Bryant Park, One World Trade Center and 151 West 42nd Street. The Durst investment will further Skyline's development and deployment of Ozmo, while The Durst Organization plans to utilize Ozmo to enhance the quality of service provided to its tenants and residents.

"As the real estate industry evolves, demand is growing for modern solutions that will not only maintain their assets, but will monitor and enhance the underlying asset value," said Michael Brown, CEO & chairman, Skyline Robotics. "Skyline Robotics is at the forefront of this new direction, and the support from The Durst Organization and the real estate community shows that the need and demand for our technology is necessary and vital."
Today, both service providers and real estate developers are searching for new and innovative ways to position their assets as data-driven and data-enhanced. Skyline Robotics reimagines an antiquated industry by combining proptech and robotics to create a new path forward.
Skyline's flagship robot, Ozmo, combines artificial intelligence, machine learning and computer vision with advanced robotics and sensors to tackle some of the most pressing industry challenges including labor shortages and worker safety. With Ozmo, window washing can be performed up to three times faster than humans, without putting workers at risk. Additionally, as Ozmo is operated by humans, it is not replacing human window washers, but rather accelerating a future where humans and robots work together. The result is a smarter, faster, safer, and more economical alternative to human window washers.
"New York City is world-renowned for its skyscrapers and it is imperative that the facades of its iconic skyline be maintained," said Jonathan (Jody) Durst, president of The Durst Organization. "Skyline Robotics is forging an innovative path forward for facade maintenance, leveraging cutting-edge technology that will transform how we maintain and determine the health of our buildings."
Durst continued, "Skyline's transformative approach to property owners' problems is a perfect fit for Durst Ventures. As a generational real estate owner, The Durst Organization provides the highest quality of service to its residents and tenants and we are excited to partner with the Skyline team on the future of façade maintenance. With this investment, Durst Ventures will become a steward of innovation within real estate."
For more information on Skyline Robotics, visit skylinerobotics.com.
About Skyline Robotics
Skyline Robotics is a deep tech robotics and automation company. Its flagship product, Ozmo, the world's first high-rise window cleaning robot, is disrupting the $40B window cleaning industry as a safer, more efficient, and more effective alternative to humans. Skyline Robotics believes that people are more than robots and that is why—starting with window cleaning—it aims to automate all types of work at heights. For more information, visit skylinerobotics.com.
About The Durst Organization
The Durst Organization, founded in 1915 by Joseph and Rose Durst, is the owner, manager, and builder of 13 million square feet of premiere Manhattan office towers and over 3 million square feet of residential rental properties, with 3,500 rental apartments built and over 3,000 in the pipeline. The Durst Organization is recognized as a world leader in the development of high-performance and environmentally advanced commercial and residential buildings where people live, work, and thrive. www.durst.org
Featured Product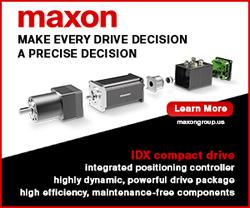 Discover the world of drive technology from a leading worldwide supplier of innovative customized drives. - Manufacturer of brushed and brushless DC motors, gearheads and motion controllers - Custom drive systems, quantities as low as a single unit - Certified for aerospace and medical applications