GreyOrange partners with SEKO to help provide efficient peak-time warehouse operations
SEKO Logistics (SEKO), a leading global logistics provider, is today announcing a strategic partnership with GreyOrange, a global leader in automated robotic fulfillment and inventory optimization software, to help scale-up its warehouse operations.

The partnership, which will involve SEKO using a fleet of GreyOrange's Ranger™ Assist Bots and GreyMatter™ fulfillment orchestration platform, will enable the company to both increase available capacity and throughput across its warehouse while also reducing operating costs. GreyOrange's solution will empower SEKO to scale its warehouse operations to meet changing demand without having to source additional labor.
"In our industry, building a scalable logistics solution to meet the ever changing demand cycles, whilst controlling an increasing cost base, is critical in our customer offering," said Paul Lockwood, Group Managing Director UK & I for SEKO. "This new partnership with GreyOrange allows our fulfillment centers, starting in the UK, to manage those fluctuations seamlessly and empower our clients to turn their supply chains into a competitive differentiator. GreyOrange's AI-driven software and automation serves as a powerful tool to ensure we're always delivering high-velocity e-commerce solutions for our clients no matter the season."
GreyOrange's GreyMatter™ fulfillment orchestration platform coordinates and assigns the work activities of warehouse robots such as Ranger™ Assist to maximize productivity, speed, accuracy and safety in distribution operations. GreyMatter™ matches robot agents according to work needs, including capacity and demand peaks, for seamless inventory orchestration.
"We are honored to be partnering with SEKO, one of the premier retail and e-commerce logistic providers - to help provide a way for warehouses to operate more efficiently during peak times", said Samay Kohli, Co-Founder and CEO of GreyOrange. "Together with our AI software and smart robots, we will be able to solve some of the most pressing issues facing logistics operations currently."
GreyOrange will be working with Zebra Fetch Robotics, to provide the Ranger™ Assist bots. The Ranger™ Assist is an autonomous mobile robot (AMR) that supports a variety of e-commerce fulfillment and wholesale picking workflows, including each and batch picking, as well as interleaving replenishment and putaway. Industry-leading on-board robot safety software and sensors enable the AMR system to be ANSI/RIA R15.08 conforming and carry the CE mark.
"Robotics automation provides an outstanding range of scalable solutions for warehouse challenges in today's on-demand economy," said Marcel Kars, VP Robotics Automation, Zebra Technologies. "AMRs can deliver greater workflow efficiencies and improved worker productivity gains by streamlining e-commerce orders, automating the movement of goods and assisting workers with picking."
Featured Product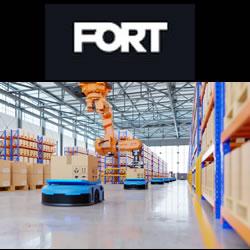 Machine safety and security are two critical components of any industrial operation. Our latest video explores this question and provides insights into how security measures can enhance machine safety. Nivedita Ojha, VP of Product at FORT, breaks down the key considerations when it comes to securing your machines and keeping your workers safe, explaining why there is no safety without security.