• Mobile robot shipments grew by more than 70% in 2021. • Strong growth forecast in EMEA and Americas regions compared with China. • Geek+ led the way in terms of market share in 2021.
London, 8th December 2022 - The mobile robot market is showing no signs of slowing, according to the latest research from Interact Analysis. Despite the market for mobile robot technology being well established, it is not yet close to reaching saturation, with new applications and opportunities continuing to emerge. The manufacturing industry is expected to continue to drive growth, as the market rebounds from the effects of Covid and a slow start to 2020. Despite a slow 1H 2020 for many vendors, shipments picked up during the final quarter of the year, with revenues filtering through to Q1 2021. The data shows more than 70% growth in shipments recorded in 2021, topping 100,000 for the year.

Although overall forecasts to 2027 have been lowered slightly, the market outlook remains strong, with CAGR of between 30% and 40% predicted. By 2027, the installed base of mobile robots is expected to reach more than 4 million, the majority of which will be order fulfillment units. Both AMRs and AGVs will experience strong demand in the next 5 years but growth of AMR adoption will dwarf that of AGVs due to the greater range of possible applications. Logistics will continue to be the primary market for mobile robots, but significant growth is also anticipated in the manufacturing industry as new applications present themselves as the market develops.
Looking at the trends in individual regions, shelf to person (S2P) robots dominate in China and other APAC regions, while the Americas and EMEA are expected to see a strong uptake in order fulfillment bots. However, revenue growth in APAC regions will be slower out to 2027 due to the lower average selling price (ASP) of the technology in this region. The Americas and EMEA regions look set to enjoy substantial revenue growth in the next 5 years, with the market reaching almost $6B in 2027 for the US, while the figure sits at just over $2B for the rest of APAC and $5B for EMEA. Despite this, China alone will account of around 40% of mobile robot shipments in the next five years due to an increasing trend towards lower cost robots.
China was very much the leader in terms of revenue growth in 2021 and Geek+ contributed considerably to this, becoming the country's leading vendor. Following just behind was HikRobot and KION. China experienced such remarkable demand for flexible automation solutions in 2021 in the wake of the COVID-19 pandemic that there was very little in terms of labor shortage compared with other regions. Looking out to 2027, the material transport sector will dominate mobile robot shipments, while sales volume will be driven by conveying solutions.
Ash Sharma, Managing Director at Interact Analysis, says, "What we found most surprising was the remarkably lower average revenues per unit (ARPUs) than we previously expected, and this influenced our decision to lower our forecasts slightly. In 2021 this dropped by 22% as a result of a change in regional mix and the influence of price erosion. Tugger/AGC ARPUs reduced by just over 25% in 2021, followed by forklifts (20%) and tow tractors (>15%). In terms of unit pricing, we expect to see that every time mobile robot (AGV and AMR) shipments double, prices will fall by around 10% to 15%."
About the Report:
The 5th edition of the well-respected Interact Analysis market report providing insight and analysis into the mobile robot industry. The report is focused on material handling applications in manufacturing and logistics environments, which accounts for the bulk of AGV & AMR revenues.
For the first time we are providing 'tertiary-level analysis' which models demand for mobile robots by country in the 'premium' version of this report.
About Interact Analysis
With over 200 years of combined experience, Interact Analysis is the market intelligence authority for global supply chain automation. Our research covers the entire automation value chain - from the technology used to automate factory production, through inventory storage and distribution channels, to the transportation of the finished goods. The world's leading companies trust us to surface robust insights and opportunities for technology-driven growth. To learn more, visit www.InteractAnalysis.com
Featured Product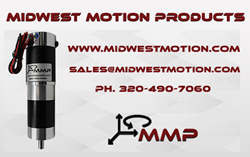 MMP specializes in supplying high-quality Brushed & Brushless DC Motors & Gearmotors for Robotics and Automation Equipment with a wide range of motor windings and gear ratios. With an impressive track record of more than 8,000 released DC Gearmotors designs and over 2,000,000 individual part numbers, we are renowned for our ability to handle large-scale orders. Due to our huge on-hand inventory, we are also well known for lightning-fast delivery of our standard products. We take pride in our dedicated customer service and our team of knowledgeable sales and engineering experts who are ready to assist you with custom design solutions tailored to your specific application. Additionally, we also offer a wide range of complimentary products, such as DC Motor Controls, DC Linear Actuators, AC-DC power Supplies, and DC Servo Amplifiers and others.