New Partnership Offers Integrated Solutions for Picking, Packing, and Batching Orders
Today, automation solutions provider Addverb announces a new partnership with leading technology solutions provider Velociti Alliance to bring innovative futuristic warehouse automation and robotics to the c-store and grocery supply chain.

Addverb's comprehensive portfolio of Mobile Robots, ASRS, Picking Technologies, and Software, integrated with Velociti Alliance's solutions, will enable wholesale distribution centers and warehouses to increase storage capacity and pick throughput. As businesses continue to navigate labor and staff shortages, integrated automation solutions with Quadron, Addverb's Carton Shuttle, and Medius, Addverb's Multi-Level Shuttle, combined with goods-to-person stations powered by Concinity, Addverb's WES software, can bring efficiencies up to 3 times more than conventional mechanized and manually operated warehouses.
"We are constantly pursuing innovation that will address today's challenges, anticipate future needs, and help American warehouses solve labor and resource shortages," said Steve Hobbs, Addverb's Senior Director of Sales. "Addverb's existing experience in e-commerce, grocery, food & beverage, and micro fulfillment, combined with the partnership with Velociti Alliance, will amply cover the entire gamut of industries. Our unified solutions offer immediate benefits to our clients while paving the way for continued innovation."
Velociti's unique software solutions help wholesale distribution facilities manage workflows with higher accuracy and less lag time. Their software includes: CloudLogic™, a game-theory-based system that updates picking and packing assignments within microseconds based on worker location and traffic patterns in the warehouse; PiecePick®, which increases productivity and accuracy by batching orders and shortening the distance workers travel between picks; and SmokePick®, to create faster and more accurate cigarette picking, sorting, and stamping.
"Velociti Alliance is excited to be moving ahead with Addverb to design integrated solutions for next-generation performance," said David S. Driskill, CEO, Velociti Alliance North America, Inc. "Our partnership combines world-class software and hardware into a unified solution, which will drive more profit to our clients' bottom line. Since both organizations have C-Store and Grocery distribution in their DNA, our joint clients will ultimately win as we work together to Advance Modern Distribution."
To learn more about Addverb's fixed and flexible solutions in robotics and warehouse automation, visit https://addverb.com. To learn more about Velociti Alliance, visit https://velocitialliance.com.
About Addverb:
Addverb provides smart end-to-end warehouse and industrial automation and intralogistics solutions. Addverb's fleet of automated robots, material handling technologies, and software solutions comprising an extensive portfolio of fixed and flexible automation solutions help improve the performance and accuracy of warehouse and factory operations.
Addverb's mission is to discover a customer's warehousing problem, design an appropriate customized automation solution to the identified problem, deliver the solution, and provide dedicated after-sales support.
Addverb's headquarters, manufacturing, and R&D facilities are in India, with global offices in Australia, Singapore, the Netherlands, the USA, Germany, and the UAE. Addverb's current 100+ customers include Reliance, Unilever, Flipkart, Coca-Cola, Pepsico, Johnson & Johnson, and PAR Pharmaceutical.
About Velociti:
Velociti Alliance North America, Inc. (VANA), a South Carolina Corporation, is the technology leader in the C-Store and grocery distribution space, with active installs in the largest distribution interests in North America, including McLane Company (largest C-Store distributor) and C&S Wholesale (largest grocery distributor), among others. Velociti is intentionally selective in its pursuit of new distribution sites, so that it can commit to going deep with each client - integrating and optimizing the total warehouse, rather than wide - where every site is generic and less-than-optimum. Velociti has been recognized as a top technology provider by Food Logistics Magazine as well as Supply & Demand Chain Executive Magazine, among others.
Featured Product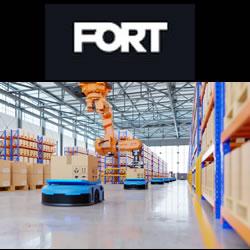 Machine safety and security are two critical components of any industrial operation. Our latest video explores this question and provides insights into how security measures can enhance machine safety. Nivedita Ojha, VP of Product at FORT, breaks down the key considerations when it comes to securing your machines and keeping your workers safe, explaining why there is no safety without security.