Cyngn DriveMod-enabled Stockchaser to be on display in Ouster booth #6541 at CES 2023
Ouster, Inc. (NYSE: OUST) ("Ouster"), a leading provider of high-resolution digital lidar sensors, announced today that it has signed a strategic customer agreement with Cyngn (Nasdaq: CYN), a developer of innovative autonomous driving software solutions for industrial and commercial applications. The agreement will add Ouster's new REV7 digital lidar sensors to the Cyngn DriveMod platform that delivers autonomous solutions for both existing and new material handling vehicles in 2023.

Ouster will showcase Cyngn's DriveMod platform, outfit with a REV7 sensor, on a Columbia Stockchaser cargo vehicle in its booth #6541 at CES 2023 in the West Hall of the Las Vegas Convention Center from January 5-8, 2023.
Cyngn develops and deploys scalable, differentiated autonomous vehicle technology for industrial organizations. Cyngn's self-driving solutions allow existing vehicle fleets to drive themselves. Together, Ouster and Cyngn aim to provide autonomous solutions to address significant challenges common to many industrial organizations such as labor shortages, costly safety incidents, and increased consumer demand for e-commerce requiring more automation.
"Cyngn's DriveMod was developed to support faster, more cost-effective deployments of industrial autonomy solutions, thereby solving major scalability and adoption issues faced by companies interested in reaping the benefits of greater levels of automation," said Cyngn CEO, Lior Tal. "DriveMod simplifies what can otherwise be a complex installation process, and requires high-performing sensor technology such as Ouster lidar sensors, which maximizes the vehicle's self-driving capabilities."
DriveMod is an all-in-one autonomy integration package that enables the conversion of standard industrial vehicles into fully autonomous ones by utilizing advanced lidar sensors, hardware components, and AI software. DriveMod can be installed into new vehicles off the assembly line or retrofitted into existing vehicles.
"Cyngn's platform is streamlining the adoption of autonomous technology for industrial fleets by making it simpler to add autonomy, powered by Ouster digital lidar, to existing and new material handling vehicles," said Nate Dickerman, Ouster's President of Field Operations. "We're excited to support them as they increase the number of autonomous solutions across the supply chain, and thrilled that Cyngn will have their DriveMod system on display at CES in the Ouster booth."
About Ouster
Ouster (NYSE: OUST) is building a safer and more sustainable future through its high-resolution digital lidar sensors for the automotive, industrial, smart infrastructure, and robotics industries. Ouster's sensors offer an excellent combination of price and performance with the flexibility to span hundreds of use cases and enable revolutionary autonomy across industries. With a global team and high-volume manufacturing, Ouster supports approximately 700 customers in over 50 countries. Ouster is headquartered in San Francisco, CA, with offices in the Americas, Europe, Asia-Pacific, and the Middle East. For more information, visit www.ouster.com, or connect with Ouster on Twitter or LinkedIn.
About Cyngn
Cyngn is an industrial autonomous vehicle technology company. Cyngn's Enterprise Autonomy Suite (EAS) unifies robotaxi-level autonomous driving software, off-the-shelf leading hardware, and precise analytics to deliver the first of its kind autonomous vehicle solution for industrial fleets. Cyngn's flagship product, its Enterprise Autonomy Suite, includes DriveMod (autonomous vehicle system), Cyngn Insight (customer-facing suite of AV fleet management, teleoperation, and analytics tools), and Cyngn Evolve (internal toolkit that enables Cyngn to leverage data from the field for artificial intelligence, simulation, and modeling). To learn more about Cyngn's autonomous vehicle technologies, please visit https://cyngn.com/ or find Cyngn on Twitter, LinkedIn, or YouTube.
Featured Product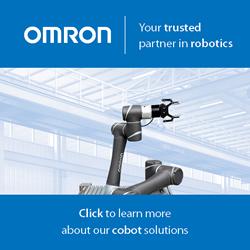 Humans and robots can now share tasks - and this new partnership is on the verge of revolutionizing the production line. Today's drivers like data-driven services, decreasing product lifetimes and the need for product differentiation are putting flexibility paramount, and no technology is better suited to meet these needs than the Omron TM Series Collaborative Robot. With force feedback, collision detection technology and an intuitive, hand-guided teaching mechanism, the TM Series cobot is designed to work in immediate proximity to a human worker and is easier than ever to train on new tasks.