With Exponential Momentum in 2022, Ottobot Now Facilitates Unattended Autonomous Deliveries for First Mile, Last Mile and Curbside Deliveries with the Ottobot Yeti
Ottonomy.IO is exhibiting the Ottobot Yeti, the first autonomous delivery robot capable of unattended deliveries, at NRF 2023, retail's big show, at the Javitz Center in New York. Ideal for first mile, last mile deliveries and locker integration, Ottobot Yeti enables completely unattended deliveries as the next pioneering step in autonomous deliveries for companies.

According to Technavio's Autonomous Delivery Market Report, The autonomous delivery robots market size is estimated to grow by USD 24.78 bn from 2021 to 2026. Autonomous delivery robots provide restaurants, retailers, ecommerce & logistic companies with an efficient and scalable delivery solution. Ottonomy.IO has created a viable robot-as-a-service offering that enhances efficiency and addresses gaps in parts of the supply chain for last-mile delivery.
Ottobot Yeti, the latest generation model of Ottobot is designed specifically for facilitating
unmanned deliveries. Ottobot Yeti includes an automated sliding delivery hatch that opens to deliver items without the need of human assistance. Ideal for the retail, eCommerce and logistics industry, Ottobot's new Yeti design allows a completely unattended touch free delivery process.
"Over a short period of time we were able to convert feedback from multiple pilots to develop an enhanced model of the Ottobot which will facilitate improved accessibility and efficiency for robotic deliveries," says Ritukar Vijay, CEO and co-founder of Ottonomy.IO. "This is especially critical for retail and ecommerce industries where there is an urgent need for the option of a completely unmanned delivery process. This also opens the door to facilitate ecommerce returns."
Ottobot is the only autonomous robot capable of making multiple deliveries in a single trip. Its four-drive wheel and four-steering wheels enable a zero radius turn and crab movement to navigate in tight and crowded spaces. Paving the way for next generation supply chain delivery logistics, Ottonomy.IO has established a robot-as-a-service model in order to provide sustainable solutions for automating deliveries for multiple use cases at scale.
You can visit Ottonomy.IO and see the Ottobot Yeti in action at NRF 2023, Jacob Javitz Convention Center in New York. To learn more about Ottonomy, please visit: https://ottonomy.io/ or download the Ottonomy Press Kit.
About Ottonomy.IO :
Ottonomy.IO is a deep tech startup, developing autonomous delivery robots to help navigate businesses with staffing shortages. Ottonomy was recognized as among the top 50 robotics companies worldwide in 2021 by Robotics Business Review and won the Mobility Startup Award given by Plug & Play Accelerator and the Sustainability Product of the Year Award for 2021 by the Business Intelligence Group. The company is backed by Pi Ventures, Connetic Ventures and Branded Hospitality Ventures.
Featured Product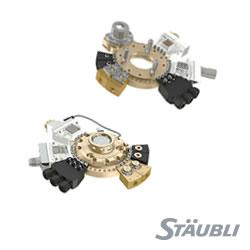 Stäubli is a pioneer in the construction and development of robotic tool changing systems. Our customers benefit from our many years of expertise in all industry sectors, as well as our modular product concept, which offers three efficient solution paths: MPS COMPLETE offers preconfigured robotic tool changers for immediate use. MPS MODULAR allows the user to determine the configuration, while MPS CUSTOMIZED allows the construction of special, application-specific systems.