The new Forklift Pallet Stacker automatically transports stack pallets, handling loads of up to 2,645 lb, and is ideal for any pallet storage application for internal logistics or warehousing
Tuesday, 17 January 2023, Barcelona: At this year's ProMAT, running March 20-23 in Chicago, Kivnon will showcase the latest addition to its AGV portfolio, its Forklift Pallet Stacker. Kivnon AGVs/AMRs are heavy-duty vehicles that improve safety and process efficiency. But why is Kivnon's approach to automated guided vehicles different, and why should you visit them at the show?

About the Kivnon Forklift Pallet Stacker
The new Forklift Pallet Stacker automatically transports stack pallets, handling loads of up to 2,645 lb, and is ideal for any pallet storage application for internal logistics or warehousing. It can move both forwards and backward and comes equipped with lifting forks to move loads vertically (up to 1.5 meters) and horizontally at speeds between 0.08 and 1 m/s.
The vehicle uses mapping navigation to perform cyclic or conditioned routes and interacts with other AGVs/AMRs, machines, systems, and people to provide a versatile, plant-wide logistics solution. The entire Kivnon AGV/AMR range incorporates security scanners to allow the vehicle to operate safely among people and other machines. An online battery charging system ensures 24/7 operations without the need to stop and charge.
Rob Britt, the Sales Engineer at Kivnon, says, "Safety is our top priority. The fundamental design of the Forklift Pallet Stacker is to move stack pallets efficiently and safely. It is ideal for applications including the Automotive, Manufacturing, and Food & Beverage industries. Our vehicles get the job done, and our local support experts will help customers with all stages of the project, from project definition to ensuring they get the support they need for the life of the machine."
Local support, global experience
After installation, Kivnon does not offer a 'standard' service. Its service response is tailored to individual customer needs, whether that be training to enable sites to maintain their vehicles or complete 24/7 support from Kivnon experts.
Kivnon provides robust local support with direct and quick access to local, experienced automation engineers to advise and guide them toward successful vehicle automation.
Kivnon vehicles follow standardized fundamental designs that make them flexible to match the purpose of the machine at a facility and individual business goals. This approach means customers get vehicles that are proven, robust, reliable, and safe - but they are not paying for extras they frankly do not need.
Britt continues, "Quite simply, our customers get a better product at a better price. We cater to any size project, small or large, and provide solutions that ensure worker and vehicle safety."
"You can expect a return on investment from one of our AGVs in less than 12 months. We invite customers to visit us at ProMAT and get a firsthand experience of the Kivnon approach to vehicle automation - an approach that means you can increase efficiency, ensure safety and reliability, and only pay for the product and support you need," concludes Britt.
ProMAT 2023 runs from March 20 - 23 at the McCormick Place Convention Center in Chicago, IL. Alongside the company's AGV vehicles, Kivnon experts will be on hand to answer any questions visitors might have about the products and presence in the US market.
Find Kivnon at ProMAT booth N7154. To register for the show, visit www.promatshow.com
About Kivnon:
Kivnon offers a wide range of autonomous vehicles (AGVs/AMRs) and accessories for transporting goods, using magnetic navigation or mapping technologies that adapt to any environment and industry. The company offers an integrated solution with a wide range of mobile robotics solutions automating different applications within the automotive, food and beverage, logistics and warehousing, manufacturing, and aeronautics industries.
Kivnon products are characterized by their robustness, safety, precision, and high quality. A user-friendly design philosophy creates a pleasant, simple to install, and intuitive work experience.
Featured Product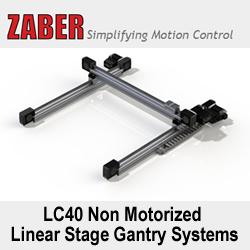 A Zaber gantry kit comes with everything you need to build a customized XY gantry system or XYZ gantry system. These gantry systems feature coordinated multi-axis motion, plug-and-play operation, easy integration with end-effector options, and built-in IO and E-Stop capabilities. An intuitive ASCII interface allows the user to easily communicate with the gantry systems using our free software, either Zaber Motion Library with APIs for several popular languages or Zaber Console. Third party terminal programs that can communicate over a serial port can also be used.