Public Safety Innovator Validated as a Worthy Add to Security Programs
Knightscope, Inc. (Nasdaq: KSCP) ("Knightscope" or the "Company"), a leading developer of autonomous security robots and emergency systems, is proud to announce 7 key clients have renewed their contracts for another year.

The renewal agreements include clients from a variety of industries, including a hospital, hotel, bank, commercial property developer, mass media company, and two residential communities. Knightscope's innovative products and services have enabled these clients to reduce crime rates and improve security operations at their respective facilities, and their renewals are a testament to the trust they place in the Company to continue delivering on their mission to protect the places people live, work, study and visit.
"Ongoing renewals from our client base, some going on their 4th, 5th, and 6th years, validate the premise for our Machine-as-a-Service (MaaS) business model: recurring revenue for a recurring societal problem," said William Santana Li, chairman and CEO, Knightscope, Inc. "We are grateful to our clients for working with us to take this cutting-edge technology from movie screen science fiction to mainstream science fact."
Knightscope is a leading provider of Autonomous Security Robots (ASRs) and the recently acquired blue light emergency communication systems. Its technologies combine robotics, software, and services to offer an innovative way to augment real-time crime prevention and improve public safety measures. The robots patrol client premises and detect anomalies, while communication systems allow visitors to contact local law enforcement or security personnel in case of an emergency.
Knightscope helps its clients solve real security problems. Hospitals must prevent theft and vandalism while ensuring the safety of patients, visitors, and staff. Hotels must protect guests and their belongings, while banks need to secure their premises from theft and help deter fraud. Commercial property developers must keep their buildings safe from intruders, and mass media companies must protect their valuable assets. And residential communities must protect against vandalism and various property crimes.
Anyone looking for an innovative security solution for properties in the U.S. may book a discovery call or meeting now at www.knightscope.com/discover to learn more about Knightscope's autonomous security robots and blue light emergency communication systems.
About Knightscope
Knightscope is an advanced security technology company based in Silicon Valley that builds fully autonomous security robots that deter, detect and report. Knightscope's long-term ambition is to make the United States of America the safest country in the world. Learn more about the Company at www.knightscope.com. Follow Knightscope on Facebook, Twitter, LinkedIn and Instagram.
Featured Product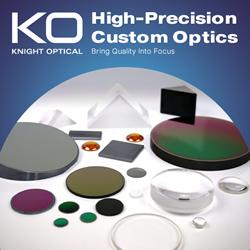 Knight Optical (KO) has provided discerning engineers, designers, and the like from the automation sector with dependable, premium-quality optics for over three decades. Throughout this time, the leading supplier has helped refine the precision of some of the world's most innovative technologies and partnered with a wide range of companies throughout the industry. In this article, Automation talks to KO about its involvement in the sector and, ultimately, finds out more about how the optical brand can help your supply chain process.