Robotic Mower to Decarbonize Commercial Landscape Industry and Solve for Critical Labor Shortages
Boulder County, CO - (January 24, 2023) - Scythe Robotics, the company developing advanced, commercial-grade autonomous solutions for the professional landscape industry, today announced it has raised $42 million in Series B financing. The round was led by Energy Impact Partners and included additional new investors ArcTern Ventures, Alumni Ventures, and Amazon's Alexa Fund alongside participation from existing investors True Ventures, Inspired Capital and more. The funding will help Scythe meet demand for the more than 7,500 reservations for its all-electric, fully autonomous M.52 mower placed by commercial landscape businesses nationwide. This financing round brings the company's total capital raised to date to $60.6 million.

Founded in 2018, Scythe is transforming the $176 billion US landscape industry, which has been plagued for years by painful labor shortages and is facing the urgent need to transition to more environmentally sustainable operations. About 2% of the continental US (40M+ acres) is covered with carbon-sequestering turfgrass, but each gas-powered mower used to maintain green spaces today produces the same amount of air pollution in just one hour of operation as driving a car 300 miles. Scythe M.52 empowers landscape contractors to care for more green spaces and to do so more sustainably, supporting the healthy environments that are keeping communities cool.
"Since launching from stealth in June 2021, we've seen overwhelming interest from commercial landscape contractors in Scythe M.52 as a solution addressing both their crippling labor pains and their electrification needs," said Jack Morrison, co-founder and CEO of Scythe. "We're thrilled to expand our outstanding investor list, particularly with the addition of influential climate-tech investors Energy Impact Partners and ArcTern Ventures, and secure more capital to scale and meet the phenomenal demand for M.52 as we work to decarbonize the landscape industry."
With a battery designed to mow all day on a single charge, the latest generation of Scythe M.52 has increased durability to stand up to the demands of landscape operations and additional computing power for even more advanced autonomy. The mower features a suite of sensors that enable it to operate safely in dynamic environments by identifying and responding to the presence of humans, animals and other potential obstacles. Simultaneously, it captures property and mower performance data, which helps landscape contractors improve workflow, identify upsell opportunities, schedule more efficiently and manage labor costs.
"Commercial landscaping electrification represents a massive but undercapitalized decarbonization opportunity, tackling more than 40 million metric tons of CO2e emissions annually," said Sameer Reddy, Managing Partner, Venture at Energy Impact Partners. "By combining cutting-edge robotics with a purpose-built electric platform, Scythe is delivering a no-brainer value proposition for its customers that unlocks the economics of electrification while also alleviating unprecedented labor constraints. With increasing regulatory pressures on emissions and air pollution, we see Scythe playing an instrumental role in decarbonizing our nation's largest crop: grass."
Further addressing customer needs, Scythe's innovative pay-as-you-mow pricing model aligns the company with the objectives of landscape contractors to decrease mowing costs and maximize uptime. It also provides a cashflow-friendly switch to electric equipment, which landscape businesses typically have to buy outright at a cost three to four times more than traditional gas-powered mowers. Scythe M.52 units have already been deployed to customer operations in Texas and are currently rolling out to customers in Florida.
"As a landscape veteran, it's exciting to see this level of investment and interest in our industry," said Ben Collinsworth, Director of Operational Technology at Yellowstone Landscape, a Scythe customer and the largest privately held commercial landscape company in North America. "The team at Scythe has developed cutting-edge solutions that tackle real, deeply-felt challenges our business wrestles with every day. We're excited to partner with them in transforming the industry as we roll out M.52 to our operations."
About Scythe Robotics
Scythe Robotics provides the commercial landscape industry with powerful commercial-grade, all-electric autonomous equipment solutions for more sustainably maintaining outdoor environments. The company's first commercial mower, Scythe M.52, has the most advanced autonomy technology on the market, bringing greater precision, productivity and scale. Scythe Robotics is headquartered in Longmont, Colorado. Find out more at https://scytherobotics.com.
Featured Product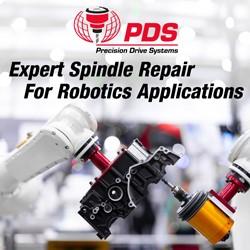 Precision components machined by CNC robot machining systems require compact, lightweight, and high-speed motorized spindles capable of delivering higher efficiency, performance, and reliability than those used in many other industries. That's why manufacturers of milling, cutting, trimming, grinding, polishing, and deburring trust Precision Drive Systems (PDS) to provide accurate and dependable spindle repair to perform to the most exacting standards.