ZAPI GROUP, the global leader in industrial and recreational vehicle electrification, seeks to make industry headlines at LogiMat 2023, the international trade show for intralogistics solutions and process management, taking place in Stuttgart on April 25 - 27.
15.03.2023, St-Sulpice, Switzerland: BlueBotics, a ZAPI GROUP company specializing in vehicle automation, will stage a compelling, multi-brand automated vehicle demonstration in the ZAPI GROUP/BlueBotics booth (#6B61 in hall 6). This demo will include: two autonomous mobile robots (AMRs), two automated pallet trucks, and a larger forked automated guided vehicle (AGV) in simultaneous operation, all managed simultaneously by the company's mission and fleet management software, ANT server.

"AGV and AMR interoperability is a hot topic in 2023. And while emerging standards such as VDA 5050 and MASS in the U.S. are exciting developments, these are still in their infancy in terms of the vehicle functionality they support," comments BlueBotics CEO, Dr. Nicola Tomatis. "With our unique multi-brand vehicle demo, our team will demonstrate how advanced, the interoperable fleet operation is already available today, with vehicles driven by ANT."
ZAPI GROUP companies Zapi S.p.a, Inmotion Technologies, Delta-Q Technologies Corp., Zivan srl, Schabmüller GmbH, Best Motor srl, and ZTP srl will also be present at the ZAPI GROUP booth, to showcase their range of motion controllers, electric motors and high-frequency battery chargers.
The ZAPI GROUP team will also showcase its newly-expanded systems integration capabilities, brought about by the recent acquisition of expert firm 4E Consulting. This acquisition expands ZAPI GROUP's expertise in the integration, testing, and conversion of drivetrains, hydraulic circuits, and ECUs. Visitors are encouraged to stop by the ZAPI GROUP booth (booth 6B61, hall 6) to learn more about these developments and the future of material handling electrification.
About ZAPI GROUP
ZAPI GROUP is engineering the transition to an all-electric future with a highly integrated product portfolio with motion controllers, electric motors, high-frequency battery chargers, and autonomous navigation software for application in full-electric, hybrid vehicles and system integration. As a global electrification leader with deep systems experience, leading innovations, and an obsession with driving customers' success, ZAPI GROUP now counts more than 1500 employees worldwide with total annual revenue of more than 600 million US dollars. For more information about the group, visit www.zapigroup.com.
About BlueBotics
BlueBotics is the reference in natural feature navigation, its mission being to help companies meet the challenge of vehicle automation. With over 20 years of industry experience, BlueBotics provides the autonomous navigation technology (ANT) and expert support customers need to bring their AGV, automated forklift, or mobile robot successfully to market. Today, there are more than 4,000 ANT driven vehicles in operation worldwide. BlueBotics is also the creator of ANTdriven.com, an educational resource that helps professionals explore how mobile robotics can help their businesses thrive.
Visit www.bluebotics.com or www.ANTdriven.com to learn more.
Featured Product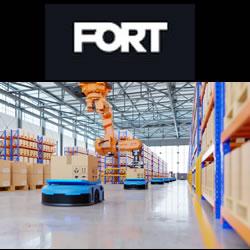 Machine safety and security are two critical components of any industrial operation. Our latest video explores this question and provides insights into how security measures can enhance machine safety. Nivedita Ojha, VP of Product at FORT, breaks down the key considerations when it comes to securing your machines and keeping your workers safe, explaining why there is no safety without security.