Some 3PL enterprises are upgrading their facilities through digital transformation with intelligent logistics solutions.
In recent years, the development of the global e-commerce industry has brought huge opportunities and challenges for third-party logistics (3PL) and warehousing. Some key challenges include brands' changing business development needs, improving warehouse management, and improving efficiency all while reducing operational costs. Some 3PL enterprises are upgrading their facilities through digital transformation with intelligent logistics solutions.

Li & Fung is a leading operator of inbound logistics services and global freight management services in Asia. One end-customer is the world's largest home furnishing retail platforms, whose warehouse is mainly responsible for the shipment of e-commerce B2C orders within China. One of its main pain points is its large overall order volume and high picking intensity for its warehouse staff.
Li & Fung decided to deploy ForwardX's autonomous mobile robots (AMRs) and its f(x) cluster scheduling system. The AMRs have significantly improved operational efficiency by serving several workflows such as loading racks, picking, unloading racks, and reviewing orders.
The AMRs have helped Li & Fung improve its picking efficiency by more than 81%. After orders are imported into the system from the website, the f(x) cluster scheduling system groups orders according to a complex algorithm, making the picking process more efficient. At the same time, it allows the warehouse staff to say goodbye to manual trolleys, making picking easier, smarter, and less labor intensive. The warehouse staff can monitor the actions, data, and location of each AMR in real-time, bringing convenient and actionable insight to their decision-making process.
As the world's leading vision autonomous mobile robot (AMR) company, ForwardX has pioneered the industry's first flexible person-to-goods picking solution, which has been successfully implemented in 200+ commercial projects and covers 15+ countries and regions.
ForwardX Robotics has provided services for many Fortune 500 head enterprises, including Jingdong Logistics, SF Supply Chain China, Li & Fung, TCL, Dongfeng Motor Corporation, etc. ForwardX will continue increasing its investment in the 3PL industry to further enhance and accelerate the industry towards automation and digitalization.
Featured Product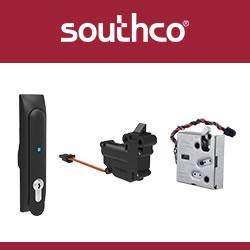 Many robotics engineers need to securely mount and latch sensitive electronic components in their robotics applications; Southco is able to help reduce theft and vandalism with our proven and reliable access technologies. Learn how Southco can help secure your robotics, or other smart city application, from theft and vandalism.