Company Raises $65 Million Series B Funding to Scale Autonomous Fulfillment Service
Nimble, an autonomous logistics and AI robotics company, announced today that it has raised $65 million in a Series B financing round led by Cedar Pine, with participation from existing investors DNS Capital, GSR Ventures, and Breyer Capital, among others. The additional funds bring total capital raised to $115 million.

Building on five years of experience in robotic eCommerce fulfillment, the fresh capital will further Nimble's goal of building a nationwide network of next-generation autonomous 3PL fulfillment centers. To scale its robotic 3PL fulfillment service Nimble has assembled a team of leading executives who have scaled logistics operations at Amazon. Building Nimble's technological advancements are world-class engineers from NASA, SpaceX, Tesla, Boston Dynamics, GoogleX as well as Stanford, Carnegie Mellon and MIT.
Nimble's intelligent robotic fulfillment systems will autonomously pick, pack and ship eCommerce orders while reducing warehouse size by up to 75%. Nimble's network of robotic warehouses will provide brands 96%+ U.S. population coverage in 1-2 days and click-to-collect savings of up to 40% compared to legacy 3PL providers.
"Finding and retaining warehouse labor, while meeting a 2-day delivery standard, is our customer's number one operational problem. Brands want to leverage robotics and automation solutions to address this issue but are often challenged by the economics. Our autonomous fulfillment centers and 3PL service will give brands access to state-of-the-art robotic fulfillment systems in a cost-effective way without large upfront investment," said Nimble's Founder and CEO Simon Kalouche.
"Many companies are working to incrementally automate the warehouse. They're taking legacy old-school warehouse concepts that were designed around the ergonomics, safety and productivity of people and trying to automate each manual process one step at a time. We believe that approach leads to a suboptimal solution design - one with marginal gains and very high integration costs which ultimately dilutes the ROI. At Nimble, we've built intelligent robots that automate the hardest manual task in the warehouse, the unit-picking and packing process. Rather than inefficiently retrofitting warehouses that were designed for people, we're completely reimagining and reinventing the warehouse to be conducive to robots - where robots can go and what robots can do. This first-principles approach unlocks a completely new type of autonomous warehouse that's simpler, smaller, faster and more efficient than the best warehouses in the world today," Kalouche added.
"With E-commerce and warehouse automation continuing to exhibit incredible growth, we were attracted to Nimble's industry leading AI robotic technology and 3PL fulfillment capabilities," said Stephen Weiss of Cedar Pine LLC.. "Our robust due diligence process showed that Nimble has a clear technology lead on the incumbents and has an extraordinary opportunity to be the next generation leader in the industry."
ABOUT NIMBLE
Nimble's mission is to invent the autonomous supply chain using next-gen AI robotics to power the future of fast, efficient, and sustainable commerce. Nimble's fleet of AI-powered robots intelligently pick, pack, and handle millions of products, from apparel and electronics to health and beauty, general merchandise and consumer packaged goods (CPG) for iconic brands like Best Buy, Victoria's Secret, PUMA, iHerb, Adore Me and others. Nimble was founded from the AI labs at Stanford and Carnegie Mellon, is Headquartered in San Francisco, CA, and the company is backed by investors including: Accel, Breyer Capital, Cedar Pine, DNS Capital, GSR Ventures and Reinvent Capital with notable individual board members including AI luminaries Fei-Fei Li and Sebastian Thrun. More information is available at: https://nimble.ai
Featured Product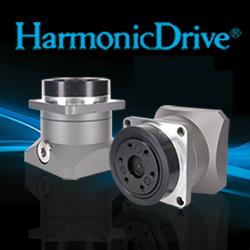 The SHA-IDT Series is a family of compact actuators that deliver high torque with exceptional accuracy and repeatability. These hollow shaft servo actuators feature Harmonic Drive® precision strain wave gears combined with a brushless servomotor, a brake, two magnetic absolute encoders and an integrated servo drive with CANopen® communication. This revolutionary product eliminates the need for an external drive and greatly simplifies wiring yet delivers high-positional accuracy and torsional stiffness in a compact housing.