-DigitⓇ is a Safe, Friendly Robot Partner that Multiplies the Productivity of the Human Workforce -Agility Also Debuts Agility Partner Program for Companies that Want Digit in Their Warehouses
Corvallis, OR - Agility Robotics is excited to unveil the next generation of Digit, the first human-centric, multi-purpose robot made for logistics work. Digit is designed from the ground up to go where people go and do useful work safely in spaces designed for people, starting with bulk material handling within warehouses and distribution centers.

The next generation Digit will be at ProMat 2023 in Chicago from March 20-23, doing fully autonomous live demonstrations in a replica warehouse work cell, for an audience of 45,000 attendees. At the same time, Agility is opening up applications for a limited number of spots in the Agility Partner Program (APPTM). The APPTM will provide partners with an exclusive opportunity to shape the development of Digit's skills and abilities, and will initially be the only way to purchase the latest generation Digit.
"Three years ago, we introduced the first commercially available bi-pedal robot with a human form factor made for work. Since then, we have seen enormous interest in Digit from multinational logistics companies, and have worked closely with them to understand how they want to use Digit to improve warehouse and supply chain operations. We designed the next generation of Digit with those customer use cases in mind," said Damion Shelton, co-founder and CEO of Agility Robotics.
Warehouse work includes many process-automated, repetitive tasks that all too often lead to injury and high turnover, leaving costly gaps in the workforce that snarl supply chains. While automation can help fill those gaps, existing automation solutions are typically single purpose, meaning companies have to onboard and maintain dozens of different solutions for different tasks, or they require expensive customization to the workspace.
Digit is multi-purpose, so it can execute a variety of tasks and adapt to many different workflows; a fleet of Digits will be able to switch between applications depending on current warehouse needs and seasonal shifts. Because Digit is also human-centric, meaning it is the size and shape of a human and is built to work in spaces designed for people, it is easy to deploy into existing warehouse operations and as-built infrastructure without costly retrofitting.
"Supply chains are still feeling the aftereffects of the pandemic, and the demand for warehouse labor far exceeds available talent. Companies are turning to automation now more than ever to help mitigate future disruptions. With logistics labor issues such as high turnover, burnout, and injury continuing to rise, we believe Digit to be the future of work," continued Shelton. "We look forward to Digit augmenting workforces, taking on the 'dull, dirty, and dangerous' tasks, and allowing people to focus on more creative and complex work. We like to think of Digit as enabling humans to be more human."
Agility is opening up a limited number of spots in the Agility Partner Program (APP) for forward-thinking companies that want to deploy Digit in their warehouse and supply chain operations. Through on-site visits and dedicated engineering resources, Agility will work closely with APP partners to understand their warehouse workflows and pain points, and demonstrate how Digit can alleviate those issues beginning with tote movement and manipulation. APP participants will have the opportunity to influence the development of new skills and capabilities for Digit based on their real-world use cases. Additionally, APP participants will get exclusive early access to the new Digit before it is commercially available. For more information or to apply to join the APP, please visit https://agilityrobotics.com/partners.
Digit incorporates decades of research, development, and scientific breakthroughs in dynamic mobility and manipulation from Agility's team, allowing it to navigate obstacles with ease and walk on uneven surfaces in different human environments, all while handling and moving objects. Among the most exciting updates in the next generation of Digit are newly designed end effectors, or hands, that are optimized for grabbing and moving plastic totes commonly found in e-commerce and shipping warehouses, as well as a head and eyes to improve human robot interaction.
"We've learned so much about how robots can partner with the human workforce and work naturally in human environments, and we can't wait to see the positive impact that the new Digit will have in the world," said Jonathan Hurst, co-founder and CTO of Agility Robotics. "When people and robots work together in logistics operations, working conditions improve for people, warehouse efficiency improves overall, the supply chain moves more smoothly - everybody wins."
About Agility Robotics:
Headquartered in Corvallis, Oregon, with offices in Pittsburgh, Pennsylvania and Palo Alto, California, Agility Robotics' mission is to build robot partners that augment the human workforce, ultimately enabling humans to be more human. Agility's groundbreaking bi-pedal robot Digit is the first multi-purpose, human-centric robot that is made for work™. For more information about how Agility is leading the next wave of robotic automation visit https://agilityrobotics.com and follow @agilityrobotics on Twitter.
Agility Robotics (& design), Digit, Made for Work, and Enabling Humans to be More Human are trademarks of Agility Robotics, Inc.
Featured Product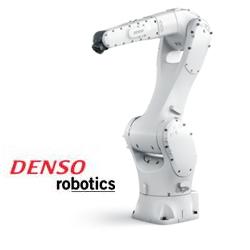 The new VMB series represent some of the newest members to our 6-axis family of robots. These high-performance, versatile units offer a longer arm reach and a higher load capacity than traditional models which make VMB an excellent solution for palletizing, packaging, and material handling. New features include greater air piping, valve and signal line options, as well as new programming options with state-of-the-art functions using our new WINCAPS Plus software. VMB offers an IP67 protection grade along with meeting ISO Class 5, which makes them suitable for electric parts, food manufacturing processes, and pharmaceutical and medical devices. With the addition of the new VMB large robots, all manufacturing processes can now be automated by DENSO Robotics.