The cloud-based platform helps customers optimize sorting operations with access to advanced analytics and real-time robot performance monitoring
Berkeley, Calif. - (March 20, 2023) - Ambi Robotics, the leading provider of AI-powered robotic parcel sorting systems that empower warehouse operators to handle more, today introduces AmbiAccess, a cloud-based business intelligence platform enabling customers to get even more out of their Robots-as-a-Service (RaaS) investment. AmbiAccess provides advanced fleet management capabilities and real-time analytics to optimize operations and maximize efficiency so global shippers and logistics companies can gain visibility into their entire operation.

"We built the AmbiAccess platform with a suite of operation-enhancing applications to make our customers' lives easier," says Jeff Mahler, Co-founder and CTO of Ambi Robotics. "This new customer portal goes beyond data visibility, with comprehensive insights and advanced analytics that leverage historical data and trends. Now our customers can better understand the performance of their entire fleet, compare KPIs between facilities and regions, and access real-time analytics from any device."
The AmbiAccess platform simplifies managing robot fleets and enhances the overall operating experience as customers scale AI-powered robotic sorting systems across their network. With on-demand accessibility, customers gain access to data-driven business intelligence that provides greater visibility into their operations. Customers can monitor robot fleet performance in real-time, access advanced analytics reporting, review actionable insights, view the system knowledge base, and access 24/7 customer support all in one place. This includes real-time data that tracks key performance metrics, productivity, system utilization, item analysis, and proactive insights to identify potential issues before they occur.
"AmbiAccess opens the doors to a more efficient and sustainable supply chain," says Stephen McKinley, VP of Operations at Ambi Robotics. "This new platform demonstrates the impact of our AI-powered robotic sorting systems and allows our customers to gain an even greater competitive edge in the market."
AmbiAccess takes the guesswork out of managing throughput, sort plans, exception items, and operational efficiency. Customers can compare trends and key metrics across their systems, facilities, and regions. Facility managers and operations executives can view metrics from the warehouse or on the go through the cloud-based portal.
About Ambi Robotics
Ambi Robotics is an artificial intelligence (AI) and robotics company developing advanced solutions that scale ecommerce operations to meet demand while empowering humans to handle more. The company's industry-leading AI operating system, AmbiOS, leverages proprietary simulation-to-reality (Sim2Real) technology to operate highly-dexterous robotic systems. Founded in 2018, the world's top roboticists, AI researchers, and leading business professionals work together to build the supply chain's most valued systems. The company is located in Berkeley, Calif. For more information, please visit www.ambirobotics.com.
Featured Product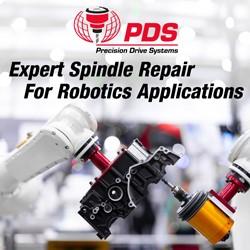 Precision components machined by CNC robot machining systems require compact, lightweight, and high-speed motorized spindles capable of delivering higher efficiency, performance, and reliability than those used in many other industries. That's why manufacturers of milling, cutting, trimming, grinding, polishing, and deburring trust Precision Drive Systems (PDS) to provide accurate and dependable spindle repair to perform to the most exacting standards.