Brand positioning addresses the changing demands of today's warehouses and capitalizes on organizational strengths in research and development, and technology integration
CHICAGO (March 20, 2023) - The ProMat trade show got started with a major development from the Yale brand, with the company announcing an updated identity and brand positioning. Introducing Yale Lift Truck Technologies, a new identity to reflect the company's focus on technology-enabled lift trucks and customer-driven design philosophy to deliver solutions for the labor, safety and productivity challenges in today's fast-paced warehouse markets.

The updated brand reflects strengths at all levels of the organization, with independent dealers empowered to provide a seamless, responsive customer experience and the factory developing industry-leading lift truck technology solutions. The Yale focus on research and development and technology integration has an established record of bringing technology to market quickly, including commercial deployments of industry-first operator assistance technologies, hundreds of robotic lift trucks, and advanced electric power options.
"Warehouses face a tough outlook, with persistent labor challenges threatening productivity and risking safety incidents. But when operations look to suppliers for help, they're met with complacency and rigid terms based on what's best for the factory - not the needs of modern warehouses," says David Furman, President, Marketing, Strategy and Business Development, Yale. "We think it's time warehouse operations rethink what they expect from lift trucks, technology and suppliers. That's why we've invested in a more creative approach built around the customer, engineering lift trucks as smart technology foundations and bringing innovations to market, faster."
The independent Yale® dealer network plays an important role in enabling the Yale technology experience on the warehouse floor. Dealers are free from the constraints of factory ownership and are instead empowered to focus solely on customer success, matching them with a solution tailored to their needs and providing the responsive support necessary for real-world results.
"Just as Yale has extensive experience developing and integrating lift truck technologies, we have the front-line experience implementing, supporting and helping customers get the most out of robotics, telematics, electric power and more," says Coit Edison, President, MH Equipment Company and President, Yale Dealer Council. "We benefit from the OEM focus on developing advanced, smart lift truck solutions, freeing us to focus on serving customers with the agility and flexibility today's warehouses require."
The rebranding also includes an updated logo that reflects the capacity of technology to push material handling operations forward. The logo features the same iconic "Yale" text, but with the addition of a box made of arrows that indicates the movement of lift trucks and products in the warehouse, and the brand's role in advancing the industry and helping customers grow.
To learn more about lift truck technologies and solutions from Yale, visit www.yale.com.
About Yale
Yale Lift Truck Technologies leverages over a century of material handling experience and substantial investment in innovation to bring the most advanced technology-driven lift truck solutions to market. The company offers a full line of award-winning lift trucks, including reach trucks, order pickers, turret trucks, pallet jacks and trucks, pallet stackers, tow tractors and counterbalanced forklifts, as well as powerful operator assist solutions, proven robotics and a wide range of power sources to help customers adapt to today's demanding supply chain. Yale and its independent dealer network support these solutions with comprehensive after-sales service, parts, financing and training.
Hyster-Yale Group is a wholly owned subsidiary of Hyster-Yale Materials Handling, Inc. (NYSE:HY) which is headquartered in Cleveland, Ohio and operates globally.
© 2023 Hyster-Yale Group, Inc., all rights reserved. YALE is a trademark of Hyster-Yale Group, Inc.
Featured Product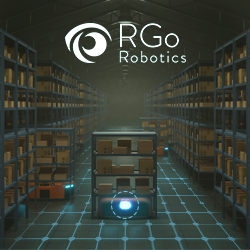 RGo's intelligent vision and AI system, Perception Engine™, provides mobile robots with 3D perception capabilities, enabling them to understand complex surroundings and operate autonomously just like humans. Its camera-based system operates is able to localize, map, and perceive in even the most robust environments including indoor/outdoor and dynamic or unstructured environments.