The ZEISS ScanBox Series 5 is a collection of turn-key intelligent 3D scanning and inspection robotic solutions designed to adapt to the changing needs of modern industrial environments.
CAPTURE 3D, a ZEISS company and the leading provider of innovative 3D digitizing solutions in the U.S. announced the ZEISS ScanBox Series 5— the latest addition to its collection of automated 3D scanning and inspection solutions designed and developed for industrial environments. The new series replaces the former proven and successful ScanBox Series 5 models with further enhanced optical 3D measuring machines featuring a modular concept designed to meet the demands of modern production, such as a new faster robot module for increased scanning speed, an integrated control tower for greater efficiency, a rotation table with a load capacity of up to two tons, and modular components for an adaptable floorplan layout.

Developing a reliable automation strategy continues to be a critical success factor for modern manufacturers to meet the demands of the changing landscape while improving quality control and dimensional inspection, whether near-line, at-line, or in-line production. The ZEISS ScanBox Series 5 solves this need with its ATOS 5 high-speed 3D sensor compatibility and an easy-to-program and operate interface to program complex measurements with the touch of a button.
"In today's manufacturing environment, having the right automation strategy is key to increasing throughput and productivity while minimizing costs. The ZEISS ScanBox Series 5 capitalizes on strengths that already have made the series part of our customers' success while upgrading essential features to deliver an automated solution that saves companies time and money," said CAPTURE 3D General Manager Richard White.
The new model series consists of three off-the-shelf versions for different part or tooling size requirements: ZEISS ScanBox 5110, ZEISS ScanBox 5120, and ZEISS ScanBox 5130. The previous ScanBox Series 5 solutions are widely used within the aerospace, automotive, consumer goods, medical, and power generation industries to digitize and inspect parts ranging from turbine blades, knee implants, injection molded components, assemblies, and automotive sheet metal panels, to aerospace structures.
Meets the ScanBox Standard: Integration of Hardware and Software for Full Automation
ZEISS ScanBox Series 5 features the ATOS 5 blue light 3D scanner for the fast digitalization of various complex parts such as plastics, metals, or castings. The automated solution offers two entrance options to fit the user's unique needs. The robot module consists of a FANUC M20iD/25 robotic arm secured on a floor mount. Users with little to no robotics experience can easily plan and program measuring sequences using the Virtual Measuring Room (VMR) software module. By programming the measuring routine within the VMR, the robot intuitively moves the ATOS 5 sensor to optimal scanning positions, enabling the fully automated execution of measurement sequences. After importing the CAD data and the corresponding measurement plan, the software computes the required sensor positions and robot paths. With a complete, detailed geometric digital twin of the physical part, users can compare the data against the CAD model and visualize GD&T deviations and details like trimming and hole positions. Users can display inspection results in a comprehensive report with images, tables, diagrams, texts and graphics for detailed trend/SPC analysis.
Modular Concept Adapts to Changing Customer Needs
The control tower, rotation table and robot modules are identical across each ZEISS ScanBox Series 5 model, allowing users to expand the layout by adding additional working areas or components as needs change. The entrance of the 5110 and 5120 models can be equipped with either a door or a safety light curtain. The 5130 model is always supplied with a safety light curtain to accommodate larger test components, such as automotive sheet metal closures. A pallet loading system can supplement the ZEISS ScanBox 5120 and 5130 models. Positioning pins enable the fast and reproducible loading of pallets for increased throughput.
Ergonomically Optimized Features
The operator station includes a new variable swivel arm incorporated into the control tower. The swivel arm allows the user to adjust the table height to operate the automated 3D scanning solution either sitting or standing.
ZEISS ScanBox Series 5 is available now through CAPTURE 3D. For more information or to schedule a demo, visit: www.capture3d.com
About CAPTURE 3D
CAPTURE 3D, a ZEISS company, is the leading provider of innovative 3D measurement solutions in the United States, helping companies solve engineering challenges, save time, minimize costs, and improve their overall time to market strategy. As the official U.S. distributor for Carl Zeiss GOM Metrology GmbH /ZEISS IQS North America, CAPTURE 3D combines vast industry expertise with robust technology to change the way people think about and experience measurement.
### 
Featured Product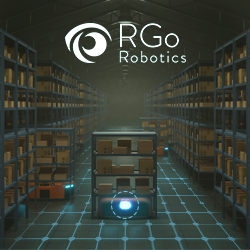 RGo's intelligent vision and AI system, Perception Engine™, provides mobile robots with 3D perception capabilities, enabling them to understand complex surroundings and operate autonomously just like humans. Its camera-based system operates is able to localize, map, and perceive in even the most robust environments including indoor/outdoor and dynamic or unstructured environments.