Jabil's manufacturing expertise, supply chain knowledge and robotics experience to enable Sarcos to gain scale and supply chain benefits for its innovative products
Sarcos Technology and Robotics Corporation ("Sarcos") (NASDAQ: STRC and STRCW), a leader in the design, development and manufacture of advanced robotic systems that redefine human possibilities, is collaborating with Jabil Inc., a leading manufacturing solutions provider, to expand Sarcos' production capacity for its robotic systems and sub-systems.

Under the terms of the agreement, Sarcos will utilize Jabil's broad manufacturing services to produce a variety of leading-edge robotic systems and sub-systems. Sarcos also will be able to leverage Jabil's global footprint, strategic supplier relationships, and state-of-the-art manufacturing facilities to accelerate volume production while benefiting from advanced supply chain, procurement, and component-sourcing solutions.
"We expect that our relationship with Jabil will advance Sarcos' manufacturing capabilities tremendously, helping to augment our overall production capacity and enabling us to scale much faster than we could without their support," said Kiva Allgood, president and CEO, Sarcos. "We are excited to work with a proven manufacturing services leader that has a long-standing record of success and an established global network of vendors and partners as we begin delivering our robotic systems to our customers."
Sarcos expects to increase the production of its commercial robotics technologies throughout 2023, with manufacturing and assembly occurring at a combination of Sarcos' facilities in Salt Lake City and Pittsburgh, as well as Jabil's San Jose, California-based production site. Sarcos anticipates that Jabil will primarily produce sub-systems for Sarcos' commercial products this year, particularly the Guardian® XT™ dexterous robotic system and may also include the Guardian® XM intelligent robotic system and Guardian® Sea Class Robotic System. In 2023, final system assembly is expected to take place at Sarcos facilities.
"Jabil is pleased to provide our value-added manufacturing services, which we are confident will expand Sarcos' overall production capacity in a highly cost-effective and efficient manner," said Craig Trotter, vice president of the capital equipment business unit, Jabil. "Our deep expertise in materials science, mechanical assembly, and human-machine interfaces, along with final assembly and test, will prove pivotal in accelerating world-class production of Sarcos' industry-leading robotic systems and sub-systems."
About Sarcos Technology and Robotics Corporation
Sarcos Technology and Robotics Corporation (NASDAQ: STRC and STRCW) designs, develops, and manufactures a broad range of advanced mobile robotic systems that redefine human possibilities and are designed to enable the safest most productive workforce in the world. Sarcos robotic systems operate in challenging, unstructured, industrial environments and include teleoperated robotic systems, a powered robotic exoskeleton, and software solutions that enable task autonomy. For more information, please visit www.sarcos.com and connect with us on LinkedIn at https://www.linkedin.com/company/sarcos.
Featured Product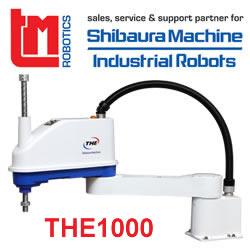 Designed for assembly and inspection applications in the electronics equipment and automobile components industries, the THE600 SCARA is a powerful automation tool. Advancing from the specifications of the existing THE400 SCARA, the THE600 has been developed to meet growing demand for fast-cycle automation. The THE600 model includes improvements in synchronised control and tracking precision. The THE600 is compact in design and offers improved high speed, with 60 per cent higher payload capacity than competing SCARA models in the same price range, making it the price-to-performance leader. Affordable price, impressive performance.