ForwardX Robotics will give away a 10-AMR system to the winning US company.
ForwardX Robotics, a top supplier of AMR-based assisted picking solutions worldwide, announced at ProMat it will giveaway a 10-AMR system to a lucky winner in the United States. The 10-AMR system will consist of ForwardX's Flex autonomous mobile robots (AMRs) along with the appropriate accessories and its f(x) Fleet Manager. Flex AMRs are primarily used for piece picking or smaller case picking in 3PL, retail, and eCommerce warehouses.

The ForwardX deep learning computer vision and sophisticated fleet management enable it to offer AMRs with higher payload capacity. Flex AMRs have a 661 lb payload capacity with a larger working surface area than their counterparts in the industry. For end users, this means less robots are needed to reach competitive productivity increases of 100%-200%.
"We are thrilled to offer this giveaway as we expand our U.S. presence. We believe in our solutions and have seen what our AMRs can do for many customers around the globe. We are looking forward to letting one lucky company see the results," says ForwardX's Founder and CEO, Nicolas Chee. "Taking the leap into automation can be a difficult decision for many customers. We can start to break the mold of traditional thinking around automation. Today, automation can be flexible, simple, and affordable for end users."
ForwardX's customers benefit from significant increases in productivity and accuracy, reduced labor dependency, rapid deployment times, operational cost savings, and increased safety while keeping things flexible and easily scalable to demand fluctuation. Company's can visit forwardx.com/other/enter-for-a-chance-to-win to enter by April 30, 2023.
About ForwardX Robotics
ForwardX Robotics is a global technology leader in the fields of AI and Robotics. Through its flexible automation platform comprising of intelligent mobile robots and AI-enabled software, ForwardX delivers material handling solutions for warehousing and manufacturing facilities that offer better performance at better value. The company is comprised of over 250 members hailing from top universities and leading enterprises around the world. As shown by the 350+ patents and its award-winning research work, such as Best Practices Award at Frost & Sullivan and 2022 Innovation Award at RBR50, ForwardX's team boasts some of the world's top computer vision scientists and robotics experts. For more information, visit www.forwardx.com.
Featured Product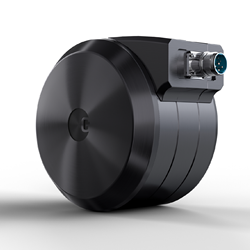 Welcome to the next generation of robotics and machinery. LiveDrive LDD is a unique direct drive motor that overcomes almost every limitation of servo geared solutions. A 50% reduction in length from typical geared motor is possible with Genesis direct drive motors. Choose to simplify machine designs and have a shorter footprint while having high performance, accuracy, and efficiency.