Built-in vision and light weight provide next generation production efficiency
Redefining collaborative robotics with next generation AI, Techman Robot has released the TM20 robotic arm, the industry's lightest high-payload AI collaborative robot (Cobot). Despite being incredibly light, the TM20's high payload capacity makes it the ideal solution for heavy-duty AMR (Autonomous Mobile Robot) applications.

Extending Techman's cobot product range to even higher payloads, TM20 only weighs 32.8kg, but carries up to 20kg and has a reach of 1300mm with six rotation joints. It is now the most capable and competitive automation solution for diverse applications including semiconductors, electronics, and medical.
Faster production, lower energy use, greater precision
This more lightweight robot improves production speed and efficiency by reducing energy consumption, and reducing recharging time in mobile scenarios. The nimble maneuverability of such a lightweight robot is also a huge advantage for tasks that require frequent turning or have limited space.
The TM20's built-in smart vision compensates for positioning errors and ensures precision in fast pick-and-place tasks - vital, for example, in semiconductor applications - without the need for additional visual or positional monitoring. This reduces integration time and costs. Moreover, Techman's exclusive TM Landmark capability allows real-time updating of the relative position of the arm and key points in the environment, keeping the robot safely oriented in 3D space, regardless of the position of the robot.
Perfect for challenging heavy-duty automation
This robot's versatility makes it ideal for a huge range of challenging tasks involving high-volume packaging and palletizing, massive pick-and-place jobs, material handling, and heavy machine tending. Specific applications where the TM20 excels include: semiconductor backend processes that require a large amount of manual loading and unloading and lifting of wafer boxes weighing more than 10 kilograms, and the retrieval and transfer of medical equipment and drugs.
Techman's TM20 Cobot is a fully functional smart collaborative robot with powerful AI. Compared to previous cobot generations, it has smarter vision and peripheral software integration, and a more intuitive user interface. The TM20 leverages the next generation of AI to provide unprecedented automated production efficiency in smart manufacturing.
Find out more about the TM20 lightweight high-payload AI Cobot Robotic Arm at: https://www.tm-robot.com/en/tm20
ABOUT TECHMAN ROBOT
Techman Robot is an industry-leading AI robotics design and manufacturing company dedicated to improving businesses through (robotic) technology applications. The company specializes in collaborative robot (Cobot) and smart vision technologies. Techman's rapid growth and technology leadership is propelled by R&D support, solid financial backing, and the global resources of Quanta Group. The company is a subsidiary of Quant Storage Inc. Techman aspires to drive innovation that brings humans and technologies closer together, advancing the quality of work to help businesses succeed, through its core values of quality, innovation and service. Learn more about the Techman Robot AI Cobot series: https://www.tm-robot.com/en/.
Featured Product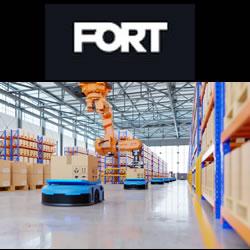 Machine safety and security are two critical components of any industrial operation. Our latest video explores this question and provides insights into how security measures can enhance machine safety. Nivedita Ojha, VP of Product at FORT, breaks down the key considerations when it comes to securing your machines and keeping your workers safe, explaining why there is no safety without security.