Installation of robotic solution also helps e-commerce growth expert further improve customer and employee satisfaction
At a time when consumer expectations have never been higher and a positive workplace culture is more crucial than ever, e-commerce growth expert Netrush is investing in a solution sure to help the company further improve customer and employee satisfaction while also enabling it to significantly reduce costs.

The initiative begins today thanks to an agreement between Netrush and its newest partner Brightpick, whose warehouse automation solutions have helped e-commerce retailers cut order fulfillment costs by as much as 50%.
"With this partnership, we're innovating to deliver a logistics operation that is four times more efficient and a corporate culture that is second to none," Netrush CEO Shane Atchison said. "From an industry leadership perspective, it's exciting too, as Netrush is the first company in the U.S. to install Brightpick's Goods-to-Person solution."
Within the next month, Brightpick's autonomous mobile robots will be working the floor of Netrush's Hebron, Ky.-based warehouse, retrieving storage bins from shelves and bringing them to centralized human picking stations.
Brightpick's Goods-to-Person solution works with standard shelving that is assembled in days and can be easily reconfigured as needed.
The Brightpick robots automatically raise the bins to waist height to enable warehouse workers to pick items with minimal effort.
In addition, each robot carries a mounted tablet that is within easy reach of the worker and tells them how many items to pick from the bin.
Such features not only cut fulfillment errors by more than 90%, they reduce the physical strain on warehouse workers drastically.
"This investment reinforces our commitment to the people who make our 3PL, transportation, and logistics offerings some of the best in the industry," Atchison said. "We've always treated our warehouse employees with unrivaled respect and empowered them to communicate what would make for a more comfortable and productive work environment. That's why they all have stools, and that's why listening to music or podcasts is encouraged, to name just a couple initiatives we've implemented.
"We take pride in those measures. When people don't have to be on their feet all day and can focus on output instead, they can make an even bigger difference to our company. That benefits the individual as well as the entire organization."
What's more, by automating order picking, Netrush — which for 17 years has been leveraging online marketplace expertise to help mission-driven brands achieve their retail goals — will be able to increase warehouse storage density by up to 250% and take on more partners without significantly growing headcount.
"Netrush is a leader in recognizing the immense efficiencies and ROI that our Brightpick solution brings to order fulfillment," Brightpick CEO and co-founder Jan Zizka said. "We have done multiple installations in Europe, and this Netrush implementation is the first of what we expect to be many installations in the U.S. market."
Netrush, which also has supply chain capabilities in Canada and Europe and is headquartered in Vancouver, Wash., has made a name for itself by possessing the teams, technology, and infrastructure to connect consumers with the right products to solve their problems.
The company offers everything brands need to excel on Amazon and win the modern commerce game, including brand protection, performance marketing, and, of course, supply chain services.
Brightpick, headquartered near Cincinnati, is part of Photoneo Brightpick Group, which has more than 300 employees and 5,000 technology installations around the world.
Featured Product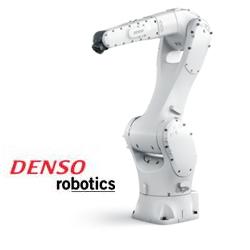 The new VMB series represent some of the newest members to our 6-axis family of robots. These high-performance, versatile units offer a longer arm reach and a higher load capacity than traditional models which make VMB an excellent solution for palletizing, packaging, and material handling. New features include greater air piping, valve and signal line options, as well as new programming options with state-of-the-art functions using our new WINCAPS Plus software. VMB offers an IP67 protection grade along with meeting ISO Class 5, which makes them suitable for electric parts, food manufacturing processes, and pharmaceutical and medical devices. With the addition of the new VMB large robots, all manufacturing processes can now be automated by DENSO Robotics.