Empowering Developers and End Users with Advanced Robotics Solutions
InOrbit Inc., the industry leader in robot operations (RobOps), today announces its participation in Automate 2023, the premier event for robotics and automation professionals. At booth 2247, InOrbit will showcase its latest groundbreaking solutions, addressing critical industry needs and empowering businesses in the era of robotics.

Discover the power of end-to-end robot orchestration with InOrbit's award-winning platform. Companies using robots can now seamlessly control any robot fleet, from scheduling repeatable tasks to dynamically dispatching robots on their missions, while precisely tracking performance across sites. InOrbit's scalable platform enables heterogeneous robots to operate autonomously, reliably, and collaboratively with existing infrastructure and software systems, ensuring optimal performance and unlocking new levels of productivity.
In addition, attendees will be among the first to experience InOrbit's robust root cause analysis (RCA) solution tailored for developers. Beyond simple incident management, these advanced tools empower robot developers to identify and resolve complex autonomy issues, enhancing the reliability and performance of their robots in real-world environments.
"Automate is an incredible opportunity to showcase InOrbit's cutting-edge solutions and demonstrate our commitment to accelerating businesses on their automation journey," said Florian Pestoni, CEO and co-founder of InOrbit. "With our end-to-end orchestration capabilities, we are revolutionizing the way companies manage and optimize their robot fleets. We help developers drive continuous improvement in their robots by making data from the field easy to access and actionable. In addition, we recognize the challenges faced by end users in the early stages of robotic integration. That's why we're excited to introduce InOrbit Intelligence, a unique program designed to support businesses navigating this transformative process through our automation expertise."
InOrbit is helping robotics end users at any stage of their automation journey navigate the robotics landscape and maximize the potential of their robots through expert guidance, advanced software and strategic industry partnerships. Now with InOrbit Intelligence, innovation and operations teams can access InOrbit's world-class expertise through workshops, proof of concept deployments and customized strategy development. InOrbit Intelligence enables companies to embrace robotics with confidence to drive operational excellence.
Join InOrbit at Automate to drive the future of robot operations. Explore how InOrbit helps companies deploying robots here and those developing robots here. InOrbit CEO and co-founder Florian Pestoni is available for interviews upon request and will also be giving a talk at Automate on "The Growing Need for Robot Orchestration" on Tuesday, May 23, at 1:30 PM.
Please find media assets here and visit InOrbit at booth 2247 on the Automate show floor to witness firsthand how InOrbit is revolutionizing the way businesses harness the potential of robotics for unprecedented success.
About InOrbit
Headquartered in Mountain View, California, InOrbit is the leading platform for RobOps at scale. The company empowers robot developers and end users to maximize the potential of every robot. InOrbit's multi-cloud platform enables efficient robot operations and provides observability through secure, real-time analytics and data collection, robot performance monitoring, incident response and root-cause analysis. The InOrbit Connect certification program allows end users across industries to orchestrate robots for multiple tasks and from multiple vendors to optimize productivity. For more information, please visit http://www.inorbit.ai.
Featured Product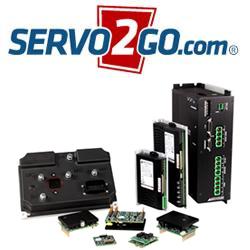 Engineered to drive brushless and brush servomotors in torque, velocity or position mode, Servo2Go.com offers a broad selection of servo drives in a wide range of input voltages and output power levels.