In addition, FANUC is sponsoring Automate's Education Pavilion where students, parents, instructors, and job seekers can learn about automation career paths and the schools that provide workforce training.
FANUC America, the world leader in CNCs, robotics, and ROBOMACHINEs will introduce two new high-payload capacity collaborative robots, and demonstrate a wide range of advanced automation solutions at Automate 2023, May 22-25 in Detroit, in booth #3232.

In addition, FANUC is sponsoring Automate's Education Pavilion where students, parents, instructors, and job seekers can learn about automation career paths and the schools that provide workforce training.
Cobot Zone Featuring Higher Payloads
FANUC has expanded the payload capacities of its CRX and CR cobot lines to handle products from 4 to 50kg. FANUC now has 11 cobot model variations that can work in a variety of industrial applications including assembly, inspection, material handling, packaging, palletizing, sanding, welding, and more.
"Our collaborative robots are easy to use and flexible solutions for companies looking to enhance productivity and solve labor issues," said Eric Potter, General Manager, General Industry and Automotive Segment, FANUC America. "We've seen substantial growth in the cobot space, particularly from companies who are new to robotic automation. We're excited to introduce the CRX-25iA cobot with a 30kg payload capacity, and the CR-35iB cobot with a 50kg payload capacity. Now, customers can easily handle heavier products with these models."
FANUC CRX-25iA Cobot: New 30kg Payload Capacity
The CRX-25iA cobot will demonstrate its enhanced 30kg payload capacity by easily handling a 30kg kettlebell with full wrist articulation.
A second CRX-25iA equipped with the FANUC Servo Torch will showcase its powerful capacity and long 1,889mm reach in a hands-on welding demonstration to highlight easy lead-through-teaching of welding joints on a lawn mower deck.
FANUC's entire series of CRX collaborative robots are reliable, flexible and can run for eight years without maintenance. Easy-to-use interactive programming allows operators to teach points using hand guidance or a Tablet TP with drag and drop icons.
FANUC CR-35iB Cobot: New 50kg Payload Capacity
FANUC's CR-35iB is the industry's strongest collaborative robot featuring a new 50kg payload capacity, a large work envelope and a small installation footprint which works well in tight spaces. A streamlined and lighter mechanical unit includes FANUC's latest sensor technology for safety.
At Automate, the CR-35iB using 3DV iRVision® will locate and pick castings on a pallet and place them on a shelf to represent a flexible Automated Storage & Retrieval System (ASRS). The cobot will then recirculate parts back to the pallet. The demonstration features the CR-35iB's powerful lifting capabilities (up to 50kg) and ability to adjust when the pallet location shifts. In addition, using a cobot in production allows operators to exchange pallets quickly and safely.
"We're highlighting a flexible infeed system which is key for customers looking to increase production rates," said Christian Stevenson, Material Handling Engineer, General Industries and Automotive Segment, FANUC America. "FANUC's integrated 3DV iRVision provides that level of flexibility by precisely locating randomly placed parts."
FANUC Robots, Cobots, Advanced Software Solutions and Factory Automation
FANUC's exhibit will feature a wide range of automated solutions including:
Order Fulfillment, Bin Transfer and Shelving
Deburring, Kitting and Interactive Programming
Realtime Visual Tracking
Heavy Payload Battery Assembly
Cleanroom Applications
High-speed Pick and Place
Robotic Painting with Visual Tracking
Vision Guidance, Simulation and ZDT
Factory Automation: MT-LINKi, Industrial PCs, Digital Servo Adapter-Model B, and Power Motion i-Model A
Education Pavilion: Join the Automation Generation
FANUC will sponsor the Education Pavilion at Automate. FANUC and over a dozen schools will provide hands-on demonstrations featuring FANUC's latest robots, cobots and CNC educational tools. Other participants include MSSC, NOCTI Business Solutions, The ARM Institute, and Focus Hope.
"The skills gap is a growing reality for companies in every industry," said Paul Aiello, Executive Director, Education for FANUC America. "In fact, if you ask any manufacturing CEO, they will say that their top priority is workforce and talent development. By partnering with these organizations, we hope to introduce and inspire students of all ages and backgrounds (The Automation Generation) to understand and seek exciting, rewarding, and high-demand automation career opportunities."
Since 2010, FANUC has been committed to working with high schools, technical training centers, community colleges and universities. Students learn industrial robotics, CNC, 4.0 technologies and earn industry certifications, becoming highly sought after for a variety of roles.
"FANUC America is leading the way by creating robotic and CNC pathways that align industry talent needs with educational programs at more than 1,500 schools across the nation," added Aiello.
Automation Generation - New Video Series
FANUC recently launched a new video series focused on how the advanced automation skills gap is affecting those in the industry, and what is being done to solve it. The first episode focuses on Lorain County Community College (Elyria, OH), one of FANUC America's partner schools. In the video, hear from students who are currently enrolled in the program, and the people who are educating them to work in advanced automation.
About FANUC America Corporation
FANUC America Corporation is a subsidiary of FANUC CORPORATION in Japan, and provides industry-leading CNC systems, robotics and ROBOMACHINEs. FANUC's innovative technologies and proven expertise help manufacturers in the Americas maximize productivity, reliability and profitability.
FANUC America is headquartered at 3900 W. Hamlin Road, Rochester Hills, MI 48309, and has facilities throughout North and South America. For more information, please call: 888-FANUC-US (888-326-8287) or visit our website: www.fanucamerica.com . Also, connect with us on YouTube, Twitter, Facebook, LinkedIn and Instagram.
Featured Product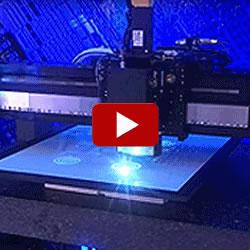 A traditional gantry system employs X-Y or X-Y-Z range of motion. Mounted on a base plate, usually granite, 2 parallel rails constitute the synchronized Y axis motion while the cross axis (bridge axis) provides the X motion. A vertical axis can be added on the bridge for the Z motion. A Split Bridge system can be less complex than a traditional gantry system because synchronization of the two parallel linear motors is not required. Both systems are used in industrial production, testing, and additive manufacturing.