Visitors to booth 5632 will experience Mujin's universal platform powering robotics applications for both factory automation and logistics
At Automate May 22-25, robotics technology company Mujin will make its North American debut of its award-winning random bin picking application for the manufacturing industry. Mujin has deployed hundreds of bin picking cells in APAC and is bringing to North America a production ready platform for implementation into complex bin picking workflows. This highly anticipated application is one of several innovative technologies in Mujin's booth (#5632) highlighting how its intelligent robotics platform can empower robots from any manufacturer to take on some of the most difficult tasks to automate, both in the warehouse and on the factory floor.

Mujin's latest product to become available to the North American market represents a significant advancement in automation for the manufacturing industry. This innovative technology enables robots to efficiently and accurately identify, grasp, and manipulate metal parts from bins or containers, revolutionizing the way industrial processes handle metal components. With this groundbreaking product, Mujin continues to redefine the possibilities of intelligent robotics in the automation landscape.
Mujin Random Bin Picking Outperforms Traditional Systems
Mujin's random bin picking combines vision, control, and planning technologies to achieve a unified system where users can create more reliable and performant picking solutions faster than traditional systems.
Some of the key benefits of Mujin's random bin picking application
Ease of use: no-code programming makes it easy for anyone to operate a robot, even without prior programming experience.
Capability: can pick and place parts from any orientation and location in bins just by registering their CAD models.
Speed: faster than traditional systems because it is powered by Mujin's best-in-class, real-time motion planning technologies that optimize the robot motion and IO commands.
No collision: utilizes the world's only general-purpose robot controller with advanced integrated control, which considers the surrounding environment.
"The future of robotics will be powered by intelligent robot controllers that can leverage the environment and make autonomous decisions, and we are glad to open this technology up to the market through the MujinController," said Ross Diankov, Mujin CEO and co-founder. "Whether it's random bin picking or a range of other applications and products, Mujin is committed to pushing the boundaries of intelligent robotics and enabling a new era of automation."
Robots from Six Manufacturers Powered by the MujinController at Automate
In addition to showcasing random bin picking, Mujin's demonstrations at Automate 2023 will feature a diverse range of logistics automation applications. Visitors to the Mujin booth will witness the seamless integration of mixed-SKU palletizing, mixed-SKU depalletizing, piece picking, and tote picking, all powered by the MujinController. Notably, these demonstrations will highlight the collaboration between robots from six different manufacturers (Fanuc, ABB, Yaskawa Motoman, KUKA, Kawasaki, and Geek+), combining industrial robot arms and mobile robots to create a unified solution.
The Power of Mujin's Platform on Display in Other Booths
KUKA (#2623): To highlight its newly launched KMP 600-S diffDrive mobile platform automated guided vehicle (AGV) system, KUKA partnered it with a KR IONTEC robot in a cell developed by Mujin for efficiently palletizing and depalletizing consumer goods. To coordinate robot movement, the cell incorporates a MujinController and camera system.
Alliance Automation (#200): Being able to quickly deploy warehouse automation solutions has become critical in the market for companies wanting to maximize their return on investment. To showcase such capabilities, Alliance has incorporated Mujin's plug-and-play solution QuickBot into their exhibit. QuickBot will demonstrate the flexibility and ease of using Mujin's platform to perform the complex task of automated depalletizing.
Experience Mujin's One Platform, Any Robot, Every Application exhibit in booth #5632 at Huntington Place in Detroit, May 22-25.
About Mujin
Mujin, a robotics technology company, develops "machine intelligent" robot controllers that are designed as a common platform for industrial and collaborative robots specializing in logistics and other pick-and-place applications. Launched in Tokyo in 2011 with offices in China and operating in the United States as Mujin Corp., Mujin works with many of the world's largest companies to make material handling applications easier to deploy, more accurate and less costly. The company's flagship product, the MujinController, uses machine intelligence technology to give robotic systems real-time decision-making ability that enables truly autonomous, reliable and production-capable robot applications. For more information, visit http://www.mujin-corp.com
Featured Product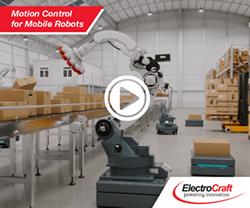 ElectroCraft is showcasing its award-winning mobile robot technology including their powerful and compact wheel drives, high-torque-density brushless DC motors, precision linear actuators as well as servo motor drive technology at a variety of conferences and tradeshows including the Boston Robotics Summit. Robotics Summit is the premier symposium for the sharing of ideas, technology, and market developments for robotic technologies across industries. Beyond a showcase and pitch of product, ElectroCraft is eager to participate in the collaborative discussion of challenges and opportunities that will shape the near and long-term robotic marketplace.