New Service Robot to Provide Heightened Efficiency for All Types of Restaurants Through Larger Trays, Stronger Driving Performance, Weight Sensors and More
CHICAGO, May 18, 2023 - LG Business Solutions USA will debut the new innovative LG CLOi ServeBot (model LDLTR30) restaurant-focused service robot at the National Restaurant Association Show 2023 in Chicago May 20-23.

Restauranteurs visiting the LG booth #6875 will be able to learn about a number of major enhancements that make the LG CLOi ServeBot even more powerful and reliable, while also getting their first look at the new 27-inch LG Kiosk for self-service ordering and new 21.5-inch outdoor display for order confirmation at drive-throughs.
According to Jeff Weiland, LG's B2B Robotics U.S. team leader, the upgraded CLOi ServeBot makes it even easier for restaurant owners to improve staff efficiency, safely deliver large amounts of food and dishes at once and provide patrons a futuristic experience that encourages repeat visits and word-of-mouth promotion via social media.
"LG's CLOi ServeBot is helping restaurants provide better service to customers while reducing employees' stress and workload to enable greater productivity and customer service," Weiland said. "The CLOi ServeBot was the first commercial robot to receive UL certification for safe operation in consumer environments, and the new model raises the bar even higher with sophisticated upgrades such as the new independent suspension on all six wheels that ensures smooth motion and enables reliable transport for drinks and soups over rough or uneven floors."
Operating up to 11 hours on a single charge,1 the new CLOi ServeBot offers impressive customization options to meet the needs of various restaurant types from American menus with large plates to Spanish tapas or Korean barbeque menus with numerous smaller plates. Customer-facing enhancements are primarily achieved through the 10.1-inch, 1200x800 full-color touchscreen, which can display menus, specials, videos, "last call" messages or a friendly digital robot face. The CLOi ServeBot can also be programmed to guide patrons from the host or lobby area to their table, allowing employees to stay at their station and help additional customers.
By increasing shelf size, adding a fourth shelf and making the shelves removable and adjustable with 2.8 inches of vertical movement, the new CLOi ServeBot increases total carrying capacity by 33 percent and ensures capability to fit items of any size. Once a shelf reaches its 22 pound (10kg) maximum capacity, new integrated weight sensors detect it is full and automatically returns the CLOi ServeBot to a preset zone for unloading. The upper storage bin and bottom shelf with optional pull-out drawer offer convenient places to keep utensils, condiments, menus and other commonly requested items.
The robot can be programmed for any floor plan with unlimited points of interest, enabling precise navigation and multi-point deliveries to any number of dining tables. All buyers must pre-program each CLOi ServeBot with a map of its operating space and destination points.
At the end of its "shift", or when power is low, the CLOi ServeBot can automatically return to the optional charging stand, which provides a full charge in just 3.5 hours, versus 4.5 hours from a 120V wall outlet. Owners can also add the optional CLOi ServeBot Call Bell for tables, which allows patrons to call the robot to serve a variety of functions such as browsing the menu or returning finished dishes.
The CLOi ServeBot stands 54 inches tall, has a footprint of 21.6 by 22 inches and features a top speed of 1.2 meters per second (2.7 mph). The new model's shelves measure 20.8-inches wide by 17.3-inches deep, providing 16 percent more surface area than the previous model.
In addition to the new robot, LG is debuting two display products at the show - screens that are designed to improve customer experiences and streamline operations at QSR's and drive-throughs. First is the new 21.5-inch Outdoor Order Confirmation Display (model 22XE1J) that provides drive-through users with real-time order confirmation. The IP56-rated display can be mounted in horizontal or vertical orientation and automatically adjusts brightness based on ambient lighting, up to a maximum of 1,500 nits. It can be used in virtually any environment and is rated for temperatures from -30 degrees to 50 degrees Celsius.
Also featured at the restaurant show will be the 27-inch LG Kiosk, (model 27KC3PK-C) which allows restaurants to offer customers a self-service ordering station. Its 1080p HD screen ensures consistent excellent image quality and legibility, while the tabletop design enables simple placement and installation. It includes a QR Code reader, integrated credit card/chip reader and receipt printer, so orders can be completed in one place.
Elsewhere in the booth will be a selection of LG's DVLED and high-brightness displays, as well as a demonstration of Pro:Centric Catena 2.0 — the advanced LG software platform that simplifies and empowers digital signage operations, through its ability to better organize content and significantly reduce the number of required tuner boxes compared to traditional system designs. The new LG CLOi ServeBot will be joined by the LG CLOi GuideBot, a robotic assistant designed to provide wayfinding, powerful advertising opportunities and valuable data on interaction times and overall usage.
Click here to learn more about the CLOi ServeBot and how it can benefit all types of restaurants. For high-res images, click here.
1 Maximum operation time based on 0.7 m/s (1.55 mph) movement speed.
###
About LG Business Solutions USA
The LG Electronics USA Business Solutions division serves commercial display customers in the U.S. digital signage, systems integration lodging and hospitality, healthcare, education, government and industrial markets. Based in Lincolnshire, Ill., with its dedicated engineering and customer support team, LG Business Solutions USA delivers business-to-business technology solutions tailored to the particular needs of business environments. Ten-time ENERGY STAR ® Partner of the Year LG Electronics USA Inc., based in Englewood Cliffs, N.J., is the North American subsidiary of LG Electronics Inc., a $68 billion global force in consumer electronics, home appliances and air solutions. For more information, please visit www.LGSolutions.com.
Featured Product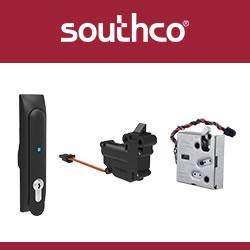 Many robotics engineers need to securely mount and latch sensitive electronic components in their robotics applications; Southco is able to help reduce theft and vandalism with our proven and reliable access technologies. Learn how Southco can help secure your robotics, or other smart city application, from theft and vandalism.