Scanning weld heads extend precision welding capabilities
AMADA WELD TECH, Inc., a leading manufacturer of equipment and systems for welding, marking, cutting, sealing, and bonding, announces a range of galvo scan heads for precision laser welding applications.

Common usages for these scanning heads include point-to-point positioning for multi-point welding, shape welding for hermetic seams, and beam weaving to increase weld width.
Point-to-point positioning is frequently employed where multiple welds are needed over a small area, for example, electronic connector leads. The jump speed is nearly instantaneous compared to either traditional motion stages or robotic motion, and can dramatically decrease cycle times.
Contour welding: galvo scanning heads are adept at steering the laser beam in an XY plane to create a seam weld of any programmed shape. This is commonly used for electronic package welding, where a specific motion is necessary to create a hermetic seal, and for lap welding configurations where additional weld contact is required.
Wobble is an extension of the seam welding application, in which the scanning head "wobbles" the beam in a small area to increase the melt pool. This improves the manufacturability of parts with lower tolerances on fit-up between the parts.
The galvo scan heads all feature advanced, intuitive software dedicated to welding, and a configurable pattern to adjust for part geometry and enhance weld performance. An integrated safety shutter ensures a safe work environment for operators.
The robust solutions are designed to work with lasers up to 3 kilowatts (kW) and field sizes up to 100 x 100 millimeters. Integrate with a linear stage motion to weld at different workpiece heights or add a wobble to linear motion for the accommodation of tolerances in fit-up for seam welds.
Featured Product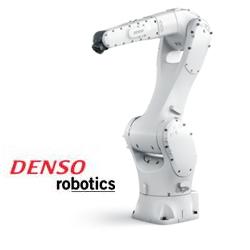 The new VMB series represent some of the newest members to our 6-axis family of robots. These high-performance, versatile units offer a longer arm reach and a higher load capacity than traditional models which make VMB an excellent solution for palletizing, packaging, and material handling. New features include greater air piping, valve and signal line options, as well as new programming options with state-of-the-art functions using our new WINCAPS Plus software. VMB offers an IP67 protection grade along with meeting ISO Class 5, which makes them suitable for electric parts, food manufacturing processes, and pharmaceutical and medical devices. With the addition of the new VMB large robots, all manufacturing processes can now be automated by DENSO Robotics.