Company partners with leading material handling equipment organizations to offer best-in-class technical support within arm's reach of growing customer base
OTTO Motors, a leading provider of autonomous mobile robots (AMRs), today announced the launch of the OTTO Certified Dealer program to provide high-quality service and support locally throughout North America. The program introduces over 215 regional offices and 2,000 technicians to the rapidly-growing AMR industry.

To meet the rising demand for AMRs, OTTO Motors has trained and certified the most reputable material handling equipment organizations to deliver solutions with the same quality that OTTO Motors is known for.
"Customers demand exceptional service. We've built our OTTO Certified Dealer program like we've built our products, with unwavering emphasis on quality to ensure that our customers receive the exceptional service they expect," said John Stikes, Director of Global Strategic Alliances and Partnerships at OTTO Motors.
Dan Gill, Head of Dealer Relations at OTTO Motors, added: "We have hand-selected the top material handling equipment organizations in the continent to locally deliver the technical support and maintenance needed to deploy, maintain and scale automation systems."
Every OTTO Certified Dealer facilitates an outstanding customer experience and boasts a well-trained team, highly competent at designing, installing and maintaining AMR solutions. They have successfully completed an intensive program to ensure they deliver best-in-class service.
"OTTO Motors offers user-friendly, cutting-edge solutions that allow us to minimize disruption at our customer's facilities while building that return on investment from day one," said Jason Dodge, Automation Manager of Eastern Lift Truck Co., Inc. "We look forward to our continued partnership with OTTO Motors and solving a wide variety of material handling challenges across North America."
Combining more than 580 years of material handling experience, OTTO Certified Dealers include:
Distribuidora LARCE: LARCE is a leading provider of industrial equipment solutions in Costa Rica since 1949, dedicated to promoting the development of the industrial sector by offering the latest in technology, advice and after-sales service.
Eastern Lift Truck (ELT) Systems Group: With over 20 locations across the eastern United States, ELT Systems Group provides end-to-end manufacturing automation and robotic solutions, material handling equipment and installation technicians to service facilities nationwide.
MH Equipment: MH Equipment is one of the largest and fastest-growing material handling service providers in the United States, helping their customers maximize ROI, stay on top of equipment maintenance, and manage fleets across multiple locations.
Papé Material Handling: Papé has built a legacy from providing uptime to customers and serving consistent, quality customer service for over 85 years. With 39 full service locations in 6 states across the western United States, their experienced team members are available 24/7 and committed to "keep you moving."
Toyota Material Handling Systems: TMHS has built their foundation on exceptional customer satisfaction, offering tailored end-to-end solutions that help customers improve productivity across their warehousing, logistics, manufacturing, distribution and supply chain operations.
For more information on OTTO Certified Dealers, visit ottomotors.com/certified-network
About OTTO Motors
OTTO Motors provides autonomous mobile robots for material handling inside manufacturing facilities and warehouses. With over four million hours of driving experience, OTTO is trusted for mission-critical deliveries in the most demanding of industrial environments. The leading AMR provider was recently recognized as a top 10 global robotics provider, named to Fast Company's 2023 list of Most Innovative Companies. Seventy percent of OTTO's customers are Fortune 500 companies and include some of the world's most recognized brands, including GE and Toyota. For more information, visit ottomotors.com.
Featured Product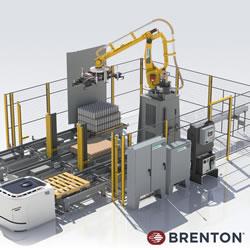 Brenton is a leader in robotic solutions with standard product offerings including palletizing and depalletizing for efficient an option for carrying hard-to-handle products, as well as larger scale systems with an optimized footprint; and case and carton loading solutions for numerous industries. In addition, Brenton works with customers on integrated solutions, offering robotics in a broad spectrum of robotics to fully integrate end of line systems. Brenton helps packaging customers protect their reputation and grow the trust of their consumers.