The new AMR is a "tugger" robot built with the pain points of the automotive industry in mind.
ForwardX Robotics, a global autonomous mobile robot (AMR) and warehouse and manufacturing solutions provider, introduces its latest AMR: Lynx. Lynx is making its North American debut at AUTOMATE 2023 in Detroit where attendees will be among the first to get hands on experience with the AMR. The new AMR is a "tugger" robot built with the pain points of the automotive industry in mind.

Automation in general is as old as the automotive industry itself, and tugger automated guided vehicles (AGVs) have been gaining traction in the industry among labor shortages and other pain points. From welding shops to vehicle assembly plants, the automotive industry requires parts of all shapes and sizes making certain material transport difficult to automate. It requires precise planning in large facilities (sometimes on multiple floors) that deal with a wide range of components. Using conventional, manually operated tugger trains or trolleys is slow, inefficient, and labor intensive.
New forms of automobiles, such as electric vehicles (EVs) and self-driving vehicles, mean new processes and manufacturing plants and add to the wide range of components companies need to deal with exasperating the need for flexible solutions amid a labor shortage. ForwardX's Lynx is built to increase the flexibility and efficiency while reducing labor intensity and overall costs within a facility.
ForwardX offers multiple versions of their Lynx AMR with a payload capacity of up to 3,306 lbs for heavy-duty rack towing. Equipped with laser scanners, depth cameras, 2D cameras, 3D cameras, and more, Lynx offers 0.4-inch docking precision and 360° obstacle detection and avoidance to ensure the safety of materials and people on the floor.
About ForwardX Robotics
ForwardX Robotics is a global technology leader in the fields of AI and Robotics. Through its flexible automation platform comprising of intelligent mobile robots and AI-enabled software, ForwardX delivers material handling solutions for warehousing and manufacturing facilities that offer better performance at better value. ForwardX's team boasts some of the world's top computer vision scientists and robotics experts. With offices in China, Japan, and the US, along with partnerships around the globe, ForwardX is expanding and applying its proven solutions to warehouses and manufacturers worldwide. For more information, visit http://www.forwardx.com/.
Featured Product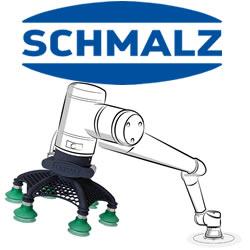 In order to interact with their environment and perform the tasks, lightweight robots, like all industrial robots, depend on tools - and in many cases these are vacuum grippers. These form the interface to the workpiece and are therefore a decisive part of the overall system. With their help, the robots can pick up, move, position, process, sort, stack and deposit a wide variety of goods and components. Vacuum gripping systems allow particularly gentle handling of workpieces, a compact and space-saving system design and gripping from above. Precisely because the object does not have to be gripped, the vacuum suction cupenables gapless positioning next to each other.