Global lifestyle brand deploys 16 innovative, AI-driven AMRs at Mexicali, MX facility
Solo Brands, Inc., a renowned global lifestyle brand committed to delivering exceptional products to its customers, and Locus Robotics, a global leader in autonomous mobile robots (AMRs) for warehouse automation, announce their strategic partnership to optimize and streamline its order fulfillment operations with the deployment of 16 state-of-the-art, AI-powered Autonomous Mobile Robots (AMRs) at Solo Brands' fulfillment warehouse located in Mexicali, Mexico. The deployment also represents Locus's first AMR deployment in the Mexico region.

The AI-driven LocusBots work alongside human workers to seamlessly collaborate and augmenting their capabilities, eliminating unproductive worker walking time and eliminating physical strain of lifting totes and pushing heavy carts, dramatically improving the overall workplace quality and worker safety.
"LocusBots work collaboratively alongside Solo Brands' workers, enhancing productivity, improving safety, and helping drive operational excellence," said Rick Faulk, CEO of Locus Robotics. "We are delighted to join forces with Solo Brands to speed order picking, lower labor costs, and deliver an amazing experience for their customers."
In today's fast-paced and competitive e-commerce landscape, efficient order fulfillment is a key driver of customer satisfaction. Solo Brands' decision to team up with Locus Robotics underscores its commitment to optimizing operational efficiency, reducing order processing times, and ensuring timely delivery to customers worldwide.
"We are excited to partner with Locus Robotics to revolutionize our order fulfillment operations," said Brett Kulesza, Operations Vice President of Solo Brands. "The integration of these advanced AMRs will not only increase the speed and accuracy of our order processing but also empower our dedicated workforce to focus on higher-value tasks, further elevating our overall efficiency."
With the deployment of these 16 Locus Robotics AMRs, Solo Brands is well-positioned to not only optimize its order fulfillment operations today, but seamlessly scale as demand grows, well into the future. The partnership reflects Solo Brands' dedication to innovation and continuous improvement.
About Solo Brands, Inc.:
Solo Brands, Inc. is a global lifestyle brand known for its dedication to offering exceptional products that cater to a wide range of consumer needs. With a focus on quality, innovation, and customer satisfaction, Solo Brands has established itself as a trusted name in the industry. Learn more at solobrands.com/
About Locus Robotics:
Locus Robotics is a leading provider of warehouse automation solutions, specializing in AI-driven Autonomous Mobile Robots (AMRs) that collaborate with human workers to streamline order fulfillment operations. Locus Robotics is committed to transforming traditional warehousing into efficient, adaptable, and technologically advanced environments.
Featured Product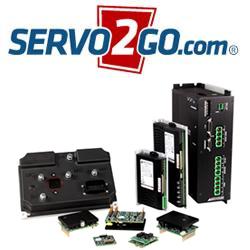 Engineered to drive brushless and brush servomotors in torque, velocity or position mode, Servo2Go.com offers a broad selection of servo drives in a wide range of input voltages and output power levels.