Factory will Produce the Human-Centric, Multi-Purpose Robot "Digit" at Scale in the US
CORVALLIS, OR - September 18, 2023 - Agility Robotics, creator of the groundbreaking bipedal robot Digit, today revealed that the company is opening RoboFab™, a robot manufacturing facility in Salem, Oregon with the capability to produce more than 10,000 robots per year.

Initial construction of Agility's 70,000 square foot robot factory began last year, and it is set to open later this year. Agility anticipates production capacity of hundreds of Digit robots in the first year, with the capability to scale to more than 10,000 robots per year. At full capacity, RoboFab will employ more than 500 workers in Salem, in addition to employees at Agility's other locations. Digit also will work in the new factory, in a similar capacity to Agility's customer sites, moving, loading, and unloading totes.
Digit is designed from the ground up to go where people go and do useful work, safely, in spaces designed for people. Because so many tasks are designed around human workflows, Digit's human-centric design enables multi-purpose utility. Initial applications include bulk material handling within warehouses and distribution centers. With the opening of the new manufacturing facility, customers that are participating in the Agility Partner Program (APP) can expect delivery of the first Digits in 2024, with general market availability in 2025. For more information or to apply to join the APP, please visit https://agilityrobotics.com/partners.
"The opening of our factory marks a pivotal moment in the history of robotics: the beginning of the mass production of commercial humanoid robots," said Damion Shelton, Agility Robotics' co-founder and CEO. "We built Digit to solve difficult problems in today's workforce like injuries, burnout, high turnover and unfillable labor gaps, with the ultimate vision of enabling humans to be more human. When you're building new technology to make society better, the most important milestone is when you're able to mass produce that technology at a scale where it can have a real, widespread impact."
Agility Robotics COO Aindrea Campbell is leading the scaling of Agility's manufacturing and corporate operations to meet the large commercial demand for Digit, including the launch of the new factory. With more than twenty years as a senior operations leader at companies including Ford and Apple, Aindrea co-led the transition from steel to aluminum on the F150 and rapidly scaled capacity as head of iPad operations during the pandemic.
"Not only are we building the world's first factory for humanoid robots, but we're doing so in the United States about 30 miles from our engineering center which is fantastic for setting us up to scale quickly," added Campbell. "By establishing RoboFab as a state-of-the-art manufacturing hub in Salem, Oregon, we are not only accelerating the development and deployment of advanced robotic systems, but also cultivating innovation and creating high-skilled job opportunities. With the capability to produce Digit at scale, we are poised to change the future of work for the better."
This video has more information on Agility's RoboFab, the first factory for humanoid robots.
https://www.youtube.com/watch?v=514IZJENQ3s
About Agility Robotics
Co-headquartered in Corvallis, Oregon and Pittsburgh, Pennsylvania, with offices in Palo Alto, California, Agility Robotics' mission is to build robot partners that augment the human workforce, ultimately enabling humans to be more human™. Agility's groundbreaking bi-pedal robot Digit is the first multi-purpose, human-centric robot that is made for work™.
Featured Product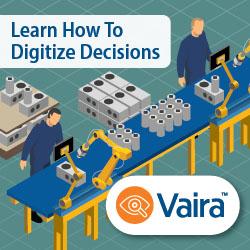 Vaira™ helps manufacturers digitize, automate, and upgrade error-prone manual processes and decisions to boost productivity and increase profits by helping humans make decisions consistent, reliable, and traceable. The camera-based solution is powered by a scalable suite of shop floor-ready apps built on proven machine vision and AI expertise for frontline manufacturing operations, with two-way integration to resource planning tools to help drive continuous analysis, insight, and improvements. Start digitizing immediately, streamlining processes customized to your unique requirements and reduce errors that lead to costs, delays, and quality concerns.