Marty Now Monitors Real-Time Data to Improve On-Shelf Product Availability and Price Accuracy, While Continuing the Work to Keep Stores Safe and Clean
NICHOLASVILLE, KY and QUINCY, MA - September 18, 2023 - Badger Technologies, a product division of Jabil and pioneer in retail automation, has teamed up with Stop & Shop, an Ahold Delhaize USA company, to expand its use of Marty the Robot at more than 300 Stop & Shop stores throughout the Northeast. The robot now conducts product checks to help ensure greater on-shelf availability for customers by alerting store associates when items need re-stocking. In addition to flagging out-of-stocks, this smarter version of Marty detects misplaced items while continuing the usual task of spotting potential floor hazards and spills. Badger Technologies® multipurpose autonomous robots were rolled out at Stop & Shop stores starting in January 2019, representing the grocery industry's first large-scale rollout of in-store robotics.

"Marty has delivered tremendous value for us already in terms of creating a safer in-store environment, and we're excited to announce these new automated shelf-scanning capabilities, which will deliver even more value for customers and associates," said Gordon Reid, president of Stop & Shop. "With Marty's new ability to find and fix on-shelf product availability and to confirm pricing information, associates can spend even more time with shoppers."
In addition to new in-store duties, Marty is taking on a bigger role outside the store to support Stop & Shop's "Feed it Forward" initiatives to make a positive impact in the community. Marty recently paid a visit to a young boy recovering from cancer as part of Stop & Shop's fundraising campaign for pediatric cancer, and Marty will be out and about even more to help fight hunger, honor members of the military, and end breast cancer as we know it alongside the American Cancer Society. On September 22, Marty will join Stop & Shop and the Boston Red Sox for a special appearance at Fenway Park in honor of Hunger Action Month. Together, these organizations are working to address food insecurity among students through the Stop & Shop School Food Pantry Program.
"Over the years, Stop & Shop has done a great job of communicating the robot's purpose, and Marty has gained a loyal following among shoppers and community members of all ages," said William "BJ" Santiago, CEO of Badger Technologies. "The addition of inventory, pricing, and trend data with the introduction of this upgraded Marty reinforces Stop & Shop's continuing dedication to improving storewide efficiencies while creating long-lasting value for customers."
As part of Stop & Shop's connected-customer strategy, the new Marty utilizes computer-vision technology, AI-driven business intelligence, and cloud-based analytics to improve the in-store experience for shoppers. Real-time inventory tracking enables Stop & Shop to expedite restocking and price corrections. Marty also continues to monitor floor conditions and potentially mitigate risk of slip-and-fall accidents. Equipped with multiple sensors, Marty traverses store aisles while navigating without disrupting the shopping experiences.
Retailers are integrating robots like Marty to improve omnichannel shopping experiences. The ability to identify and resolve product and price discrepancies quickly increases the integrity of order fulfillment, warehouse, inventory, POS, and e-commerce systems while boosting supplier forecasting and planogram compliance. Moreover, having precise product locations assists with e-commerce, online order picking, mobile shopping apps, and curbside delivery. Equally important are dynamic updates on buying trends and customer preferences to personalize shopping experiences and increase store profitability.
For more information on Badger Technologies, please visit https://www.badger-technologies.com/. For more information on Stop & Shop's community involvement, please visit: https://stopandshop.com/pages/feed-it-forward.
About Badger Technologies
Badger Technologies is a product division of Jabil (NYSE: JBL), a manufacturing solutions provider that delivers comprehensive design, manufacturing, supply chain, and product management services. A robotics pioneer, Badger Technologies has deployed more than 650 robots that automate hazard detection, and resolve a host of inventory and data disconnects to improve on-shelf product availability, price integrity, store profitability, and shopping experiences. As part of Jabil, Badger Technologies has access to leading-edge retail automation technologies, innovative cloud software and services, global supply chain management capabilities, and world-class manufacturing services.
Featured Product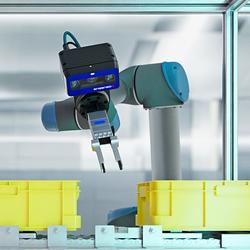 Combining the ease of use of a webcam with the performance and reliability of an industrial camera? The uEye XC autofocus camera from IDS Imaging Development Systems proves that this is possible. Its high-resolution imaging, simple setup and adaptability make it an invaluable tool for improving quality control and streamlining workflows in industrial settings - especially for cases where users would normally employ a webcam. The uEye XC autofocus camera features a 13 MP onsemi sensor and supports two different protocols: USB3 Vision, which enables programmability and customization, and UVC (USB Video Class). The UVC functionality enables a single cable connection for easy setup and commissioning, while delivering high-resolution images and video. This makes the uEye XC camera an ideal option for applications that require quick setup and need to manage variable object distances. Additional features such as digital zoom, automatic white balance and color correction ensure precise detail capture, which is essential for quality control.