Integrating inspection and checklist apps with new AI object detection and classification skills reduces quality escapes and improves traceability for manufacturers
Ottawa, Canada - September 20, 2023: Pleora Technologies today expands its scalable suite of shop-floor ready AI and digitization apps for its Vaira solution to help manufacturers automate and upgrade error-prone processes. Built on Pleora's 23-plus years of expertise in industrial automation, Vaira integrates machine vision cameras, lighting, edge processing, manufacturing system connectivity, and a low-code development platform with a suite of customizable shop-floor ready inspection and traceability apps.

Expanding the capabilities of the solution, Vaira's visual inspection app now includes AI-based object detection and classification skills that can be integrated with assembly checklist and work instructions. With Vaira's new inspection and checklist app, an electronics manufacturer has reduced final verification steps from over four minutes to 30 seconds. Vaira has also been deployed in electronics assembly, recycling sorting, and automotive, medical, utility and small parts manufacturing applications.
With Vaira's combined inspection and checklist features an operator follows digitized instructions that clearly guide product assembly step-by-step, while AI and machine vison automatically verifies quality. For example, the app can check that the correct component has been used as part of an assembly and confirm that it is in the proper position. If a defect is detected the operator can't move to the next assembly step until the error is corrected. Adding product tracker app capabilities, product images and operator notes are captured and stored to a manufacturer's ERP/MES system for compliance, traceability, and continuous improvement initiatives.
"Vaira makes manufacturing decisions repeatable, reliable, and fully traceable," says Jonathan Hou, President at Pleora. "Our app-based approach to AI deployment gives quality managers the tools they need to quickly solve critical issues that cost their business time and money while gaining data insight to guide their automation strategy. Continuously expanding our platform with new ready-to-deploy AI skills customizable to unique workflows helps manufacturers immediately improve quality."
For more information on Vaira visit https://www.pleora.com/digitize-manufacturing/. Pleora will be showcasing Vaira and its suite of inspection and traceability apps at upcoming manufacturing trade shows and conferences, including Future of Automation, Canadian Manufacturing Technology Show, AI & SMART Automation Conference, The Assembly Show and ATX Canada, a division of Advanced Design & Manufacturing Expo.
Learn More at Upcoming Shows
Future of Automation, an online event, September 20th where Pleora is hosting a session, "Digitizing Towards AI Automation, presented by Pleora Technologies", at 3:05 pm.
Canadian Manufacturing Technology Show in Toronto, September 25th to 28th at Booth 512. Pleora is also hosting two sessions around AI automation and AI-based decision support for manufacturers with, "Your First Steps to AI Automation" on the 25th at 11:30 am in the Smart Theater, and, "AI, Vodka, and Electronics - Deploying Decision Support on the Factory Floor" on the 26th at 2:00 pm in the Smart Theater.
AI & Smart Automation Conference in Pittsburgh October 11th, Pleora discusses "How AI and Machine Vision are Powering Automation" at 10:30 am.
The Assembly Show in Rosemont October 24th to 26th at Booth 446. Pleora will also be holding a session, "Digitize and Automate Your First Steps Toward AI" on the 24th at 10:40 am.
ATX Canada in Toronto November 7th to 9th at Booth 1331 demonstrating the ease of AI deployment for manufacturing.
About Pleora Technologies
Global manufacturers rely on Pleora's expertise in AI, real-time sensor connectivity, and rugged networking to shorten time-to-market, reduce risk, and lower costs. Established in 2000, the company serves over 1500 active customers in the industrial automation, medical imaging, and security and defense markets. The company's latest AI solutions include an intuitive "no code" software platform and camera-based inspection system to help manufacturers reduce quality errors. Learn more at pleora.com.
Featured Product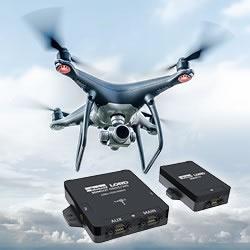 The new complete inertial navigation solution comes with GNSS/INS 3DMGQ7 sensor, 3DMRTK correction modem and real time SensorCloud RTK correction network. The sensor comes with Dual antenna GNSS, tactical grade IMU with centimeter-level accuracy with RTK. Low profile and light weight at 78 grams, this sensor is The sensor is optimized for size and weight in Unmanned Ground Vehicles, mobile robots and autonomous vehicles. The network interface 3DMRTK modem is seamlessly integrated into the 3DMGQ7 sensor supports industry-standard NMEA and RTCM 3.1 protocols. The network RTK support comes with cellular data plan. The SensorCloud RTK is a cloud-based RTK correction system with private encrypted data stream. Check out our G Series and C Series OEM products.