The robot can now automatically use elevators to make deliveries between floors.
Pudu Robotics successfully conducted a project to test the cloud integration between its delivery robot "FlashBot" and elevators in collaboration with Nippon Otis Elevator Company. This is the first time PUDU has successfully integrated a robot and elevator in Japan.

FlashBot is a delivery robot developed by PUDU for digital management and service improvement in hotels and offices and available globally in 2021. PUDU has conducted multiple tests of cloud integration between robots and elevators, utilizing Otis Integrated Dispatch™ technology. By analyzing the differences in protocols for different elevators and making adjustments to accommodate different environments, FlashBot is now able to automatically use elevators to move around floors in a building and make deliveries without human interaction. Also, FlashBot improves robot management and the employee and customer experience in hotels and offices with flexible obstacle avoidance functionality and intelligence-driven, attentive service.
Otis Integrated Dispatch technology is an API (Application Programming Interface) that is designed to integrate with most autonomous service robots. This API approach enables the robots to interface seamlessly with the elevators via the cloud or a local connection, and is more flexible and scalable than traditional hard-wired integrations. The Otis Integrated Dispatch system works at the elevator group or bank level, allowing more flexibility to add robots, including different robot models from various providers, and increasing efficiency by having multiple elevators available for the robot to use.
About FlashBot
FlashBot is PUDU's building delivery robot that uses elevators to make deliveries safely and reliably to rooms. Equipped with cutting-edge technology, FlashBot takes intelligent delivery to the next level, enabling advanced robotic management and service in hotels and offices.
Flexible and efficient 3D obstacle avoidance functionality
Utilizing IoT technology to send operating instructions between FlashBot and other equipment in the building via a network in the cloud
Peace of mind with built-in UV germicidal lamps
Smooth running with advanced 6-wheel independent suspension
FlashBot's Main Technologies
PUDU SLAM
PUDU SLAM is a new SLAM solution that integrates multiple sensors such as Lidar, camera, UWB, RGBD, IMU, etc. It is a proprietary PUDU technology that enables robots to perform tasks more efficiently.
PUDU SCHEDULER
Multiple robots can collaborate with each other, sharing tasks and supporting scheduling to make delivery more efficient and service smarter.
PUDU CLOUD
PUDU's Cloud platform provides powerful cloud-based smart services for PUDU robots. The business management platform, automated operations and maintenance platform, and scenario data collection platform enable intelligent delivery by detecting the robot's operational status in real-time and making informed decisions.
About Pudu Robotics
Pudu Robotics is a global leader in design, R&D, production, and sales of commercial service robots with nearly 70,000 units shipped in over 60 countries worldwide. The company's robots are currently in use across a wide variety of industries including restaurants, retail, hospitality, healthcare, entertainment, and manufacturing. Founded in 2016 and headquartered in Shenzhen, China, its mission is to use robots to improve the efficiency of human production and living. For more information on business developments and updates, follow PUDU on Facebook, YouTube, LinkedIn, Twitter and Instagram.
About Otis
Otis gives people freedom to connect and thrive in a taller, faster, smarter world. The global leader in the manufacture, installation and servicing of elevators and escalators, we move 2 billion people a day and maintain approximately 2.2 million customer units worldwide - the industry's largest Service portfolio. You'll find us in the world's most iconic structures, as well as residential and commercial buildings, transportation hubs and everywhere people are on the move. Headquartered in Connecticut, USA, Otis is 69,000 people strong, including 41,000 field professionals, all committed to meeting the diverse needs of our customers and passengers in more than 200 countries and territories. To learn more, visit www.otis.com and follow us on LinkedIn, Instagram, Facebook and Twitter @OtisElevatorCo.
Featured Product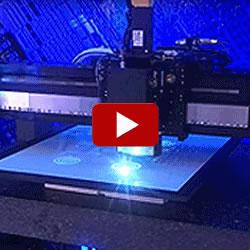 A traditional gantry system employs X-Y or X-Y-Z range of motion. Mounted on a base plate, usually granite, 2 parallel rails constitute the synchronized Y axis motion while the cross axis (bridge axis) provides the X motion. A vertical axis can be added on the bridge for the Z motion. A Split Bridge system can be less complex than a traditional gantry system because synchronization of the two parallel linear motors is not required. Both systems are used in industrial production, testing, and additive manufacturing.