Logistics automation for warehouse operations has become a key factor for efficiency in an increasingly competitive production environment. The technological advancement of mobile robots makes the warehouse operations optimization more accessible than ever for companies of any size. This article reviews some of the global data from the latest report from the IFR - International Federation of Robotics which shows that logistics remains one of the top 5 areas for service robotics applications.
⬛STAFF SHORTAGES DRIVE SERVICE ROBOTS: SALES UP 48%

The International Federation of Robotics (IFR) 'World Robotics 2023' report compares the adoption of robots in various industries and the type of applications to the previous year, highlighting a significant increase in sales of service robots.
While the IFR report focuses on service robot sales in general, it focuses specifically on warehouse operations and logistics automation, where mobile robots such as RB-THERON or RB-ROBOUT play an important role.
⬛INCREASE PRODUCTIVITY IN THE WAREHOUSE
Warehouse productivity comes into greater responsiveness to market demands, shorter delivery times, and lower operating costs. The growth observed in the IFR report on the logistics and transport sector, verifies the value that mobile robots bring to achieve these goals. Route optimization, efficient inventory management, and speeding up picking and packing processes are key for companies looking to stay competitive in the market.
►Route Optimization
One of the challenges in warehouse operations is ensuring that goods move efficiently from the point of receipt to the point of shipment. Mobile robots can calculate and follow optimal routes, minimizing travel time, avoiding dynamic obstacles, and reducing congestion in the warehouse.
This route optimization not only increases the speed of delivery, but also reduces wear and tear on facilities and equipment, saving costs in the short and medium term.
►Accurate Inventory Management
Accuracy in inventory management is essential to any logistics operation. Mobile robots are equipped with sensors and vision and recognition systems that allow them to constantly track inventory. This ensures that goods are sorted or stored where they belong.
Additionally, the ability to track inventory in real-time helps prevent losses and ensures that goods are available when needed. This is especially important in a business environment where demand can be unpredictable.
►Picking and Packing Efficiency
Picking and packing products or goods are the critical warehouse operations that waste the most workers' time. Mobile robots speed up this process by bringing products to workers instead of looking for them on the shelves. These collaborative robots can work safely with employees, allowing for greater flexibility in allocating resources based on changing needs.
►Adaptability to demand
Another factor that considerably affects the productivity of a warehouse is the fluctuation in demand, which can vary significantly depending on various factors such as seasonality, socio-political circumstances or simply consumer trends. Mobile robots have an advantage over robots that are installed (fixed) in a single location or developed to perform a single type of task. They are highly adaptable and can perform different tasks in one or multiple locations.
►Error Reduction
Errors in warehouse operations cost a company time, money, and resources. The precision and sensorization of the RB-KAIROS+ Mobile Manipulator robot reduces failures in tasks such as Pick & Place to a minimum, creating reliable workflows. Here you can find a real use case of the manipulator robot deployed in a gear factory.
Featured Product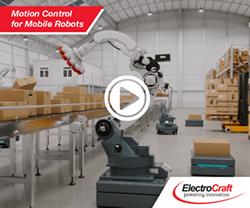 ElectroCraft is showcasing its award-winning mobile robot technology including their powerful and compact wheel drives, high-torque-density brushless DC motors, precision linear actuators as well as servo motor drive technology at a variety of conferences and tradeshows including the Boston Robotics Summit. Robotics Summit is the premier symposium for the sharing of ideas, technology, and market developments for robotic technologies across industries. Beyond a showcase and pitch of product, ElectroCraft is eager to participate in the collaborative discussion of challenges and opportunities that will shape the near and long-term robotic marketplace.