Dr. Mark W. Spong Receives Pioneer in Robotics and Automation Award
IEEE Robotics and Automation Society have awarded the 2011 Pioneer in Robotics and Automation Award to Dr. Mark W. Spong for his innovative contribution to the field of robotics. The Pioneer Award was aimed at honoring persons who have explored new areas of engineering, development or research that played a major role in the growth of robotics and automation. The society selected Spong for his original contributions in the field of robotic control and teleoperators. He has also made significant contributions in the field of robotics education. Spong has authored and co- authored numerous research papers in the robotics field. Californias Jet Propulsion Laboratory and New Mexicos Sandia National Labs have utilized systems based on the theoretical fundamentals of robot control established by Spong. The results of his work over the past 30 years have been applied in systems used by R&D facilities and companies worldwide.
Comments (0)
This post does not have any comments. Be the first to leave a comment below.
---
Post A Comment
You must be logged in before you can post a comment. Login now.
Featured Product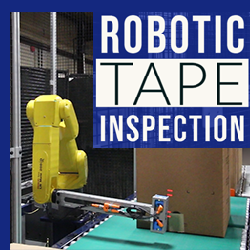 Do you have issues with overfilled cases, spilled cases, ruined product, unstable pallets, and end customer complaints because of improperly sealed cases? An inline tape inspection station can solve this issue and save you time and money. Contact Motion Controls Robotics (sales@mcri-us.com) to confirm rate and tape/case type.