Kinect Hackers Are Changing the Future of Robotics
For 25 years, the field of robotics has been bedeviled by a fundamental problem: If a robot is to move through the world, it needs to be able to create a map of its environment and understand its place within it. Roboticists have developed tools to accomplish this task, known as simultaneous localization and mapping, or SLAM. But the sensors required to build that map have traditionally been either expensive and bulky or cheap and inaccurate. On November 4, a solution was discovered—in a videogame. Thats the day Microsoft released the Kinect for Xbox 360, a $150 add-on that allows players to direct the action in a game simply by moving their bodies. Most of the world focused on the controller-free interface, but roboticists saw something else entirely: an affordable, lightweight camera that could capture 3-D images in real time. Within weeks of the devices release, YouTube was filled with videos of Kinect-enabled robots. A group from UC Berkeley strapped a Kinect to a quadrotor—a small helicopter with four propellers—enabling it to fly autonomously around a room. A couple of students at the University of Bundeswehr Munich attached a Kinect to a robotic car and sent it through an obstacle course.
Comments (0)
This post does not have any comments. Be the first to leave a comment below.
---
Post A Comment
You must be logged in before you can post a comment. Login now.
Featured Product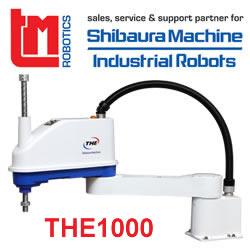 Designed for assembly and inspection applications in the electronics equipment and automobile components industries, the THE600 SCARA is a powerful automation tool. Advancing from the specifications of the existing THE400 SCARA, the THE600 has been developed to meet growing demand for fast-cycle automation. The THE600 model includes improvements in synchronised control and tracking precision. The THE600 is compact in design and offers improved high speed, with 60 per cent higher payload capacity than competing SCARA models in the same price range, making it the price-to-performance leader. Affordable price, impressive performance.