Bilibot: A $1200 Dollar Robot Built Around The Microsoft Kinect Sensor
The Bilibot Project started at MIT through the exploration of what could be done with the new Microsoft Kinect sensor. Besides being a great sensor for gesture technology, the Kinect is a powerful robotic sensor - so much so that robotics laboratories at universities across the world are replacing their $5000 sensors with the $150 Kinect! The Bilibot project takes advantage of this new technological breakthrough to provide a research quality robot at a hobby robot's price.
For $1,200.00 you get:
an iRobot Create
a Kinect (modified to run off of a battery)
a computer running all the nessecary open source software
a small robot arm that uses geared motors, and can lift objects weighting up to 3 lbs
and all the mounting hardware, , wiring and electronics needed to put it all together.
They also have a promotion where they'll send you back $350 if you buy a BiliBot and program it to do something new and interesting and make the source available to the rest of the BiliBot community.
Comments (0)
This post does not have any comments. Be the first to leave a comment below.
---
Post A Comment
You must be logged in before you can post a comment. Login now.
Featured Product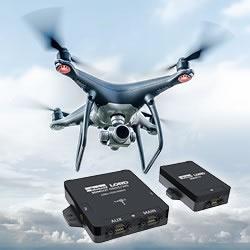 The new complete inertial navigation solution comes with GNSS/INS 3DMGQ7 sensor, 3DMRTK correction modem and real time SensorCloud RTK correction network. The sensor comes with Dual antenna GNSS, tactical grade IMU with centimeter-level accuracy with RTK. Low profile and light weight at 78 grams, this sensor is The sensor is optimized for size and weight in Unmanned Ground Vehicles, mobile robots and autonomous vehicles. The network interface 3DMRTK modem is seamlessly integrated into the 3DMGQ7 sensor supports industry-standard NMEA and RTCM 3.1 protocols. The network RTK support comes with cellular data plan. The SensorCloud RTK is a cloud-based RTK correction system with private encrypted data stream. Check out our G Series and C Series OEM products.