Self-Reconfiguring Modular Robotics Podcast
Per Sjöborg has a series of audio interviews with leading researchers and thinkers in the field self-reconfiguring modular robotics.
On his website Flexibility Envelope he describes the field of self-reconfiguring modular robotics as the joining two elements:
The first part is Modular robotics. This is a branch of robotics that aims to build complex systems with simple components. A bit like Lego,simple pieces are,by cooperating,capable of building complex objects.
The Second part is Self-reorganization to make the units able to move among each other on their own accord and thus reconfigure themselves from one task to another without human intervention. This also allows the system created to be active and dynamic.
His audio interviews can be found on here and are a great listen.
Comments (0)
This post does not have any comments. Be the first to leave a comment below.
---
Post A Comment
You must be logged in before you can post a comment. Login now.
Featured Product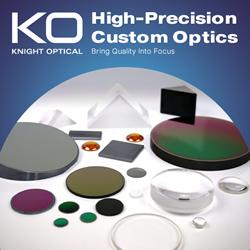 In the era of Industry 4.0, automation and machine learning drive the future. Knight Optical stands at the forefront, collaborating globally to supply precision optical components that power the robotics and automation sector. From UAVs, drones, and robotics to machine vision, LiDAR-driven car sensors, and renewable energy, our optics empower innovation. Optical components play an important role within the industry, including: Optical windows and domes safeguard systems in unmanned vehicles while preserving the field of view for cameras. Infrared lenses with aspheric surfaces elevate thermal imaging. Optical filters excel in machine vision, with colour glass, interference, and dichroic filters in our stock. Knight Optical provides stock components and custom solutions made to your exact specs. With every component undergoing rigorous metrology and QA checks before shipment, you are sure to experience true precision, innovation, and assurance.