Using robots for packaging, sorting and labeling.
RobotWorx has an article up that showcases various available robots that can aid in packaging and sorting tasks. Motoman's has a series of dual arm robots extremely well-suited for packing applications. Dual-arm robots are extremely precise and dexterous, offering human-like assembly capabilities. The arms can be programmed to work collaboratively or separately. The Fanuc M-1iA Robot (pictured above) is a lightweight and compact robot that is capable of sorting very small items and placing those items in packaging.
Comments (0)
This post does not have any comments. Be the first to leave a comment below.
---
Post A Comment
You must be logged in before you can post a comment. Login now.
Featured Product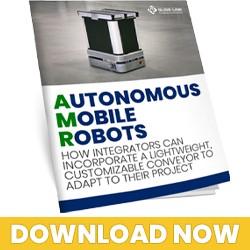 This eBook covers Glide-Line's conveyor attachments built specifically for AMRs. We go through the many variables that integrators are looking for in a cost-efficient AMR conveyor design, like: - lightweight, yet powerful - high flexibility & configurable -durability & dependability - DC-driven. At Glide-Line we solve problems that other conveyor manufacturers won't: simplicity - easy to maintain,flexible configurability, creating an efficient, hassle-free customer experience - customizations are normal to meet your needs.