Using The Kinect As A 3D Scanner
"3D Scan 2.0″ is a project at Bergakademie Freiberg University that uses the Microsoft Kinect and a set of AR markers as a 3d scanner. Using the AR markers for positioning guides you move the Kinect camera around the object collecting point clouds that are then assembled into a solid mesh using Poisson Surface Reconstruction. Further information along with the source code is available at the project homepage.
Comments (0)
This post does not have any comments. Be the first to leave a comment below.
---
Post A Comment
You must be logged in before you can post a comment. Login now.
Featured Product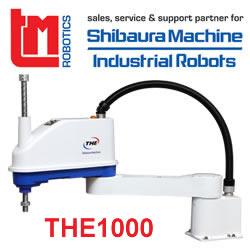 Designed for assembly and inspection applications in the electronics equipment and automobile components industries, the THE600 SCARA is a powerful automation tool. Advancing from the specifications of the existing THE400 SCARA, the THE600 has been developed to meet growing demand for fast-cycle automation. The THE600 model includes improvements in synchronised control and tracking precision. The THE600 is compact in design and offers improved high speed, with 60 per cent higher payload capacity than competing SCARA models in the same price range, making it the price-to-performance leader. Affordable price, impressive performance.