Aldebaran Robotics Updates Their NAO Robot
Aldebaran Robotics just released a promo video for their next NAO robot. The new model includes 2 cameras, 4 microphones, sonar rangefinder, 2 IR emitters and receivers, 1 inertial board, 9 tactile sensors, and 8 pressure sensors. NAOqi, their proprietary embedded software, provides functionality for task such as speech recognition, object recognition, and access to all the sensors. Code development can take place in Windows, Mac OS, or Linux and be called from many languages, including C++, Python, Urbi, and .Net.
Comments (0)
This post does not have any comments. Be the first to leave a comment below.
---
Post A Comment
You must be logged in before you can post a comment. Login now.
Featured Product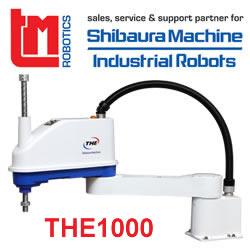 Designed for assembly and inspection applications in the electronics equipment and automobile components industries, the THE600 SCARA is a powerful automation tool. Advancing from the specifications of the existing THE400 SCARA, the THE600 has been developed to meet growing demand for fast-cycle automation. The THE600 model includes improvements in synchronised control and tracking precision. The THE600 is compact in design and offers improved high speed, with 60 per cent higher payload capacity than competing SCARA models in the same price range, making it the price-to-performance leader. Affordable price, impressive performance.