Origami Robots
Ramses Martinez, Carina Fish, Xin Chen and George Whitesides have published a paper describing a soft pneumatic actuator constructed by combining paper with a silicone elastomer. On pneumatic inflation, these actuators move anisotropically, based on the motions accessible by their composite structures. They are inexpensive, simple to fabricate, light in weight, and easy to actuate. This class of structure is versatile: the same principles of design lead to actuators that respond to pressurization with a wide range of motions (bending, extension, contraction, twisting, and others). Paper, when used to introduce anisotropy into elastomers, can be readily folded into 3D structures following the principles of origami; these folded structures increase the stiffness and anisotropy of the elastomeric actuators, while being light in weight. These soft actuators can manipulate objects with moderate performance; for example, they can lift loads up to 120 times their weight. They can also be combined with other components, for example, electrical components, to increase their functionality.
Comments (0)
This post does not have any comments. Be the first to leave a comment below.
---
Post A Comment
You must be logged in before you can post a comment. Login now.
Featured Product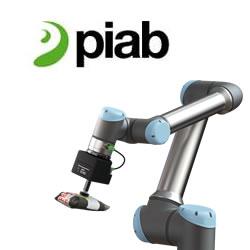 Piab's Kenos KCS gripper enables a collaborative robot to handle just about anything at any time. Combining Piab's proprietary air-driven COAX vacuum technology with an easily replaceable technical foam that molds itself around any surface or shape, the gripper can be used to safely grip, lift and handle any object. Standard interface (ISO) adapters enable the whole unit to be attached to any cobot type on the market with a body made in a lightweight 3D printed material. Approved by Universal Robots as a UR+ end effector.