Robotic Glove For Auto Workers And Astronauts
General Motors and NASA are jointly developing a robotic glove that auto workers and astronauts can wear to help do their respective jobs better while potentially reducing the risk of repetitive stress injuries.
The Human Grasp Assist device, known internally in both organizations as the K-glove or Robo-Glove, resulted from NASA and GM's Robonaut 2 – or R2 – project, which launched the first humanoid robot into space in 2011. R2 is a permanent resident of the International Space Station.
When engineers, researchers and scientists from GM and NASA began collaborating on R2 in 2007, one of the design requirements was for the robot to operate tools designed for humans, alongside astronauts in outer space and factory workers on Earth. The team achieved an unprecedented level of hand dexterity on R2 by using leading-edge sensors, actuators and tendons comparable to the nerves, muscles and tendons in a human hand.
Research shows that continuously gripping a tool can cause fatigue in hand muscles within a few minutes, but initial testing of the Robo-Glove indicates the wearer can hold a grip longer and more comfortably.
For example, an astronaut working in a pressurized suit outside the space station or an assembly operator in a factory might need to use 15 to 20 pounds of force to hold a tool during an operation but with the robotic glove they might need to apply only five to 10 pounds of force.
Inspired by the finger actuation system of R2, actuators are embedded into the upper portion of the glove to provide grasping support to human fingers. The pressure sensors, similar to the sensors that give R2 its sense of touch, are incorporated into the fingertips of the glove to detect when the user is grasping a tool. When the user grasps the tool, the synthetic tendons automatically retract, pulling the fingers into a gripping position and holding them there until the sensor is released.
Comments (0)
This post does not have any comments. Be the first to leave a comment below.
---
Post A Comment
You must be logged in before you can post a comment. Login now.
Featured Product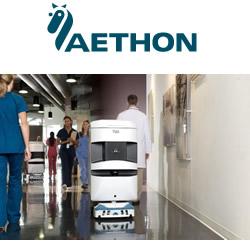 TUG automatically picks up and drops off carts, eliminating the labor that would otherwise be needed to load the robot. It also communicates with your IT system to automate the dispatching of the robot fleet and update the inventory system when materials are moved.